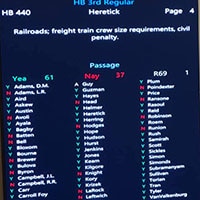 Virginia's House of Delegates on Wednesday passed H.B. 440, a two-person freight crew bill, by a 61-37 vote, with one delegate abstaining.
The bill now moves on to the state's Senate.
"We've hit third base," SMART TD Virginia Legislative Director Ronnie Hobbs said. "It's going to take some work from all of us, but we're getting to work to bring it home to the Governor's desk."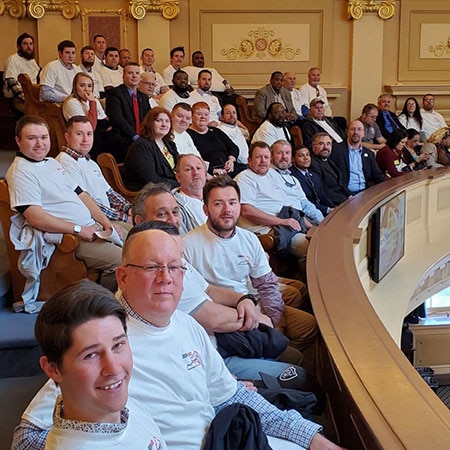 There was a strong show of support in the state Capitol for the bill by members from both the Sheet Metal and TD sides. After the passage was announced by House Speaker Eileen Filler-Corn, cheers from supporters filled the chamber.
H.B. 440 levies fines on freight carriers who do not operate with two crew members in the cab with exceptions for hostler or yard service.
Hobbs said the effort that got the bill through the House will need to be sustained and more support from members will be needed as work continues in the state Senate.
"We had a great turnout and filled the chamber," Hobbs said. "There has been great effort from members and retirees who have been reaching out to officials and letting them know about how two people are needed on the crew. If we keep this up, the bill will pass."
Hobbs said that he will keep members informed as the bill progresses and thanks everyone for their strong support. Contact Hobbs at rhobbs1313@gmail.com for more details on how to show your support.
H.B. 440, which was introduced by Delegate Steve E. Heretick of District 79, passed the House's Committee on Rail and Commerce Jan. 16 by a 13-8 vote.