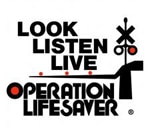 Union Pacific Railroad's Operation Lifesaver is a rail safety program that's been in place for 42 years, but railroad officials are hoping to broaden their outreach to more than just city council presentations.
Israel Maldonado, a Union Pacific risk management representative, told Lodi City Council on Tuesday morning that he would like to visit local schools, churches and businesses to present safety and accident prevention tips for when drivers or pedestrians are near railroad tracks.
Read the complete story at the Lodi News-Sentinel.