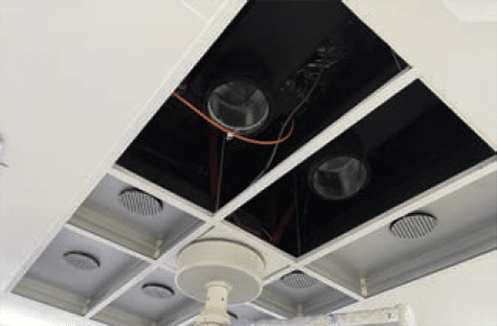 W
hether the general public realizes it or not, the heating, ventilation and air conditioning industry has been center stage during the COVID-19 pandemic. Testing, Adjusting and Balancing Bureau (TABB)-certified HVAC contractors in particular have been on the front lines, testing and balancing airow for healthcare facilities so they can treat COVID patients, while also providing for the general health needs of their communities.
Hospitals require constant testing and adjusting of airow to keep patients safe, and their needs have grown exponentially during the pandemic.
Fisher Balancing, a New Jersey-based HVAC company and union signatory contractor helmed by President Matt Sano, has seen its business grow substantially. The company has worked with the healthcare industry for many years to provide testing and balancing, said Sano, but when the pandemic hit, technicians went into overdrive, turning regular patient rooms into COVID-19 isolation rooms.
Union-provided training guarantees Fisher employees have the skills and certifications necessary to provide the same TAB expertise the company has provided for 20 years.
Philadelphia-area testing, adjusting and balancing (TAB) technicians at Fisher Balancing sometimes worked 12- to 24-hour shifts converting entire hospital wings into isolation rooms at local hospitals. Within a few weeks of the initial outbreak of COVID-19, Fisher's crew had helped convert more than 250 regular rooms to negative airflow rooms at the University of Pennsylvania's Hospital and the Children's Hospital of Philadelphia.
Not all balancing firms could provide the services that Fisher does. All members can earn certifications through training provided through a joint partnership between the International Association of Sheet Metal, Air, Rail and Transportation Workers (SMART) and the Sheet Metal and Air Conditioning Contractors' National Association (SMACNA).
Union-provided training guarantees Fisher employees have the skills and certifications necessary to provide the same TAB expertise the company has provided for 20 years.
"The training our employees receive as SMART apprentices and journeymen is unparalleled," Sano said. "The TABB certifications our employees hold also ensure that they have the knowledge and experience needed to do this kind of work."
To convert individual rooms to isolation rooms, TAB professionals modify the airow, switch standard rooms to negative pressure rooms and verify the number of times the air changes in the room to ensure health and safety.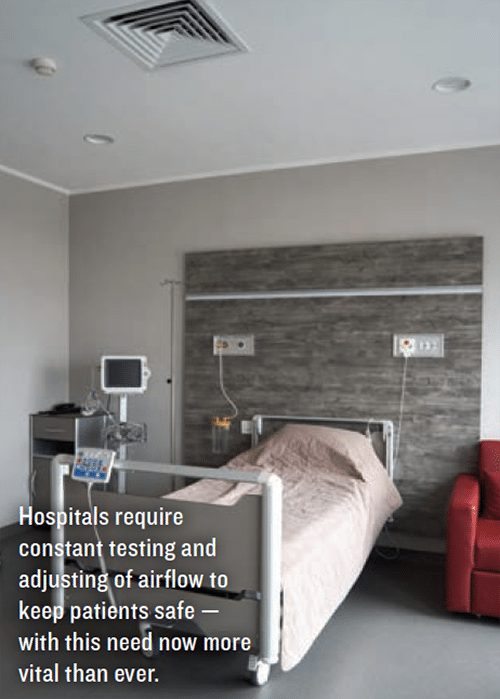 According to CDC guidelines, a single-patient airborne infection isolation room must have negative pressure relative to other parts of the facility. The negative pressure causes air to ow from the corridors to the isolation room, but air cannot escape to other parts of the facility when the door is closed and the ventilation system is operating properly. Air from the isolation room can be exhausted directly to the outdoors or passed through a special high efficiency air (HEPA) lter that removes most of the droplet nuclei before it is returned to general circulation.
Beyond healthcare facilities, Fisher Balancing has seen an uptick in work for casinos, malls, restaurants and other retail clients. Sano said he expects engineering to change going forward, as building owners will want to be prepared for these types of catastrophic events as well as respond to state mandates regarding airow rule changes in some facilities.
Hidden behind walls or tucked high up in ceilings, HVAC systems are often ignored by the public, but during these unprecedented times, ventilation has become critical to health and safety.