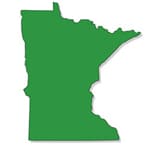 Two Minnesota lawmakers have introduced legislation in the state's legislature that would require two persons on all Class I and II carrier freight trains operating in the state.
State Rep. Frank Hornstein (DFL-Dist. 61A) and State Sen. Ann H. Rest (DFL-Dist. 45) introduced H.F. 1166 and S.F. 918 introduced last month in the Minnesota House of Representatives and Senate, respectively.
Both bills state that, if passed, "No person operating or controlling a Class I or Class II railroad may allow the operation of a railroad train or locomotive in this state, used in connection with the movement of freight, without a crew composed of a minimum of two individuals, except as otherwise provided by Code of Federal Regulations, title 49, part 218, subpart B. A person violating this section is guilty of a misdemeanor and liable for a penalty of not less than $250 nor more than $1,000 for a first offense, not less than $1,000 nor more than $5,000 for a second offense, and not less than $5,000 nor more than $10,000 for a third or subsequent offense."
S.F. 918 will be heard before the Senate Transportation and Public Safety Committee on Monday, March 16, at 2 p.m. at the state capitol, Transportation Division State Legislative Director Phillip Qualy said. The Senate Judiciary plans to hear S.F. 918 the following day, March 17.
The Republican-controlled House of Representatives has yet to schedule a hearing for the companion legislation, H.F. 1166.
"Our state legislation is not federally pre-empted and does not contain language that can be construed as a collective-bargaining area," Qualy said "Unfortunately, the railroads are misleading the legislature with inaccurate and erroneous information. The carriers' practice to remove more and more persons from the right-of-ways of American railroads endangers the general public".
Minnesota has the eighth largest rail network in the United States. The SMART Transportation Division in Minnesota continues to advise the legislature on oil transportation, grade-crossing safety and supports the Minnesota AFL-CIO's Working Family agenda.
The Minnesota Legislature is scheduled to adjourn May 20, 2015.