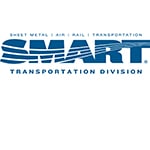 To SMART TD members whose carriers are in national handling:
Pursuant to the moratorium provision in the last national agreement, today was the first day the carriers were permitted to serve notice to open the next round of National Bargaining and negotiate a new agreement, and they have accordingly served us this morning.
As TD President, I wanted to let you know that we will be reviewing the carriers' notice over the weekend. We will be responding to the carriers with our own Section 6 notice early next week. Our notice has been crafted and refined by our District 1 Rail General Chairpersons and the Section 6 committee awaiting the time to serve.
The carriers' notice is linked for your review. The contents of their notice should not come as a surprise given the recent lawsuit filed regarding our crew-consist moratoriums. As usual, their notice contains unrealistic expectations of the outcome that they hope to achieve.
We will proudly be going into this national round of negotiations in solidarity not only with the BLET once again, but with an unprecedented group that includes the American Train Dispatchers Association, Brotherhood of Railroad Signalmen, International Association of Machinists, International Brotherhood of Boilermakers, National Conference of Firemen & Oilers/SEIU, International Brotherhood of Electrical Workers, Transport Workers Union of America, and the Transportation Communications Union. I look forward to standing shoulder to shoulder with BLET National President Dennis Pierce and the leadership of the other unions in our Coordinated Bargaining Coalition as we move ahead in this process.

In solidarity,

Jeremy R. Ferguson
President — Transportation Division