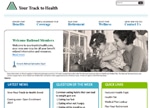 A new and improved site – www.yourtracktohealth.com – replaces the previous Railroad Information Depot (www.rrinfodepot.com).
Bookmark the new website address for easy future access: www.yourtracktohealth.com.
The new yourtracktohealth.com is your online gateway to information, tools and resources about your health and welfare benefits to help you:
Explore your benefits
Enroll in and manage your coverage
Improve your health
Plan your retirement
Be sure to check out the new video library, "Question of the Week," and the featured monthly health topic when you're on the site.
More enhancements are coming soon.
There will be several new features added to the site in the coming months that will include:
Secure sign-on: allows eligible employees and their dependents who are enrolled in the health and welfare benefits program to securely access and manage personal benefits information online.
An email registration and subscription center: allows eligible employees and their dependents to opt-in to receive important benefits, enrollment and health/wellness information, alerts and updates via email. The subscription center is where you can update and manage your email communications preferences.
Stay tuned for future enhancement announcements and benefits communications on www.yourtracktohealth.com.
(This site contains information for railroad employees and/or their eligible dependents covered in the national railroad medical, prescription drug, dental, vision, behavioral health and life insurance benefits plans. If you and/or your dependents are not covered under these plans, including Amtrak employees, you should continue to seek information about your health care benefits from your employer.)