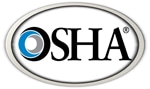 Winter weather creates a variety of hazards that can significantly impact everyday tasks and work activities. These hazards include slippery roads and surfaces, strong winds and environmental cold.
Learning how to prepare for work during the winter, protect workers from the cold and other hazards that can cause illnesses, injuries, or fatalities, is essential to maintaining a safe work environment and completing tasks successfully.
The Occupational Safety and Health Administration (OSHA) has prepared a webpage dedicated to educating workers how to protect themselves during the winter months. Visit the webpage here.