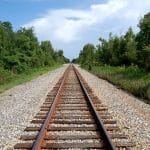 HOMESTEAD, Pa. — A man was arrested Wednesday for allegedly placing items on railroad tracks in Homestead. According to the criminal complaint, an officer was crossing the railroad tracks when he noticed a struggle between two men. 
One of the men flagged the officer down and said that the other man, later identified as Bernard Marshalek, was placing items on the railroad tracks.
The witness said that when he saw a "train go by and hit the items the man placed on the tracks it sounded like an explosion and debris went flying everywhere."
Read more from WPXI.com.