SMART Transportation Division Alt. National Legislative Director and TD National Safety Team Director Jared Cassity has been appointed to serve as a voting member on the Transportation Security Administration (TSA) Surface Transportation Security Advisory Committee (STSAC).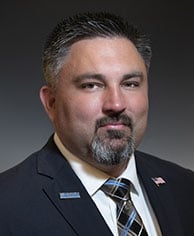 Brother Cassity is one of six new surface transportation industry leaders appointed to STSAC and the lone labor representative on the committee.
"These new members bring significant experience in surface transportation and add particular expertise in pipeline operations and cybersecurity to the committee," said TSA Administrator David Pekoske. "As an agency, we work to remain steps ahead of evolving threats, and I anticipate the experience these professionals bring to the committee will help us."
Brother Cassity is a member of Local 1377 (Russell, Ky.) with a long union resume. He started his railroad career with CSX in September 2005 and was promoted to engineer in 2008. He has served SMART-TD as a vice local chairperson, secretary and treasurer, legislative representative, local chairperson, assistant general chairperson and as Kentucky state legislative director. He was elected alternate national legislative director at the Second SMART-TD Convention in 2019 and became director of the TD National Safety Team in June 2021.
"I'm proud to serve on the committee and honored by this appointment," Cassity said. "I will give honest and constructive recommendations to TSA as we work to make surface transportation in the nation safer, especially with the many transformative opportunities presented by the Biden administration's Infrastructure Investment and Jobs Act."
The TSA Modernization Act of 2018 required TSA to establish the committee to advise TSA's administrator on surface transportation security matters, including recommendations for the development, refinement and implementation of policies, programs, initiatives, rulemakings and security directives pertaining to the surface transportation sector. STSAC is composed of up to 40 voting members, representing surface transportation providers, users of surface transportation, and surface transportation employees. The Committee also has 14 non-voting members serving in an advisory capacity from the Department of Defense, Department of Energy, Department of Homeland Security, Department of Transportation, Federal Bureau of Investigation and National Transportation Safety Board.
Congratulations to Alt. NLD Cassity for receiving this important role!