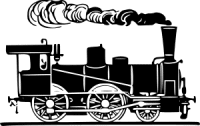 Harper's Magazine blogger Kevin Baker put together what he feels are the 23 best American songs about trains ever written. In his blog post, Baker explores train songs by Johnny Cash to "I've been working on the railroad." Below is his list of songs.
Click here to go to Baker's blog post to read why he thinks these are the best train songs out there and to listen to those songs.
Folsom Prison Blues by Johnny Cash
City of New Orleans by Steve Goodman
The Ballad of John Henry, sung by Harry Belafonte
Chattanooga Choo Choo by Harry Warren and Mack Gordon
Mystery Train by Junior Parker
The Midnight Special, sung by Leadbelly and Harry Belafonte
The Wreck of the Old 97, sung by Johnny Cash
This Train is Bound for Glory, sung by Sister Rosetta Tharpe
On the Atchison, Topeka, and the Santa Fe by Harry Warren and Johnny Mercer
Dixie Flyer by Randy Newman
500 Miles, sung by Hedy West, Rosanne Cash and Joan Baez respectively
Downbound Train by Bruce Springsteen
Rock Island Line, sung by Alan Lomax, Johnny Cash and Lonnie Donegan respectively
Paddy on the Railway by The Wolfe Tones
Freight Train, Freight Train by Elizabeth "Libba" Cotten, also sung by Peter, Paul & Mary
The Ballad of Casey Jones aka The Brave Engineer by Johnny Cash
Casey Jones by Jerry Garcia and Robert Hunter
Wabash Cannonball by J.A. Roff
Long Train Running by The Doobie Brothers
I've Been Working on the Railroad, singer unknown
Last Train to Clarksville by Tommy Boyce and Bobby Hart
Midnight Train to Georgia by Jim Weatherly and sung by Empress Gladys & The Pips
Bringin' in the Georgia Mail by Fred Rose and sung by Sam Bush Band
Bonus song: Downtown Train, sung by Tom Waits and Rod Stewart respectively
Read more from The Harper's Blog.