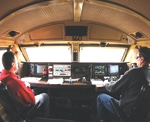 The Amtrak crash that killed eight people this month raised questions of the safety of one-engineer trains, thwarting the idea of reducing freight crews for now, Union Pacific Corp. Chief Executive Officer Lance Fritz said.
While cargo operators would save money with a single person in the cab instead of two people, that argument will be a tough sell to railroad workers and union leaders after the May 12 accident in Philadelphia, Fritz said. Amtrak trains in the Northeast Corridor have used solo engineers since 1983, according to a union statement.
"It makes the conversation more difficult today," Fritz said in an interview at Bloomberg's headquarters in New York Wednesday. "That's because it becomes a more emotional conversation as opposed to a conversation grounded in fact and the capability of technology."
Read more from Bloomberg Business.