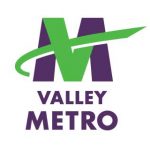 Phoenix-area voters on Tuesday approved a comprehensive transportation plan that would significantly increase public spending on light-rail and other transit projects, city officials announced yesterday.
According to unofficial results, nearly 55 percent of voters approved the measure known as Transportation 2050. 
Listed on the ballot as Proposition 104, the plan calls for a 0.7 percent sales tax that would fund the construction of an additional 42 miles of light-rail throughout the city, late-night bus and Dial-a-Ride services, and the repaving of more than 680 miles of streets, according to a press release from the city.
Read more from Progressive Railroading.