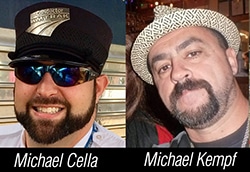 A memorial fund for Amtrak conductor Mike Cella, a current SMART Transportation Division member out of Local 30 in Florida, and engineer Mike Kempf, a former SMART TD member, who were tragically killed in the line of duty on Sunday, Feb. 4, has been established.
Proceeds from the fund will be used to help their families with expenses as they grieve the loss of these men in the collision of Amtrak 91 with a parked CSX freight train.
Contributions will be split evenly between the families. Please give what you can at https://www.gofundme.com/memorial-fund-for-cella-amp-kempf.
A printable PDF flyer to post at Locals is available at this link.