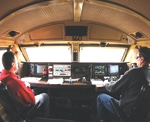 Transportation Division Pennsylvania State Legislative Director Paul Pokrowka had a meeting with Pennsylvania House of Representatives Transportation Committee Chairperson John Taylor (R-Dist. 177) Feb. 25 seeking his support of a two-person rail crew law in the state. Taylor pledged his support and said he would draft the two-person crew bill.
Pokrowka asks that SMART members in the state contact Taylor to thank him for his support and ask him to keep his promise to draft the bill. "Because Rep. Taylor is the chairperson of the Transportation Committee, any member in the state can contact him," Pokrowka said. "You do not need to be a resident of his district."
Members can reach Rep. Taylor by calling him at (717) 787-3179 or writing him at 214 Ryan Office Building, P.O. Box 202177, Harrisburg, PA 17120-2177. Members can also contact Rep. Taylor by visiting his website at www.reptaylor.com/Contact.aspx.