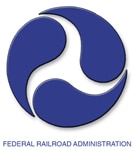 WASHINGTON — The Federal Railroad Administration (FRA) sent its Status of Positive Train Control Implementation report to Congress. The report is mandated by the House of Representatives Appropriations Committee and shows that after seven years and significant assistance from FRA, most railroads will miss the Dec. 31, 2015 positive train control (PTC) implementation deadline that Congress established in 2008.
"Positive Train Control is the most significant advancement in rail safety technology in more than a century. Simply put: it prevents accidents and saves lives, which is exactly what we seek to do at The Department of Transportation every single day. We will continue to do everything in our power to help railroads install this technology," U.S. Transportation Secretary Anthony Foxx said.
The National Transportation Safety Board (NTSB) began calling for train control systems like PTC in 1969, and FRA was involved in establishing PTC standards with stakeholders for more than a decade before the 2008 mandate. Three years before Congress passed the PTC mandate, FRA issued its final rule that established uniform PTC standards for railroads willing to voluntarily install the technology.
PTC prevents train-to-train collisions, over-speed derailments, incursions into established work zone limits and a train going to the wrong track because a switch was left in the wrong position.
In 2008, Congress passed the Rail Safety Improvement Act (RSIA), requiring all Class I railroads transporting poisonous-by-inhalation hazardous (PIH) or toxic-by-inhalation hazardous (TIH) materials and all railroads providing passenger service to implement Positive Train Control by Dec. 31, 2015.
FRA has provided significant assistance and support to railroads in order to help them become PTC compliant. Those efforts include:
Providing more than $650 million to passenger railroads, including nearly $400 million in Recovery Act funding.
Issuing a nearly $1 billion loan to the Metropolitan Transportation Authority to implement PTC on the Long Island Rail Road and Metro-North.
Building a PTC testbed in Pueblo, Colorado.
Working directly with the Federal Communications Commission (FCC) and the Advisory Council on Historic Preservation to resolve issues related to spectrum use and improve the approval process for PTC communication towers.
Dedicating staff to continue work on PTC implementation in March 2010, including establishing a PTC task force.
"The Federal Railroad Administration will continue to use its resources and expertise to help railroads achieve the critical goal to have Positive Train Control implemented," FRA Acting Administrator Sarah Feinberg said.
Read the full report here.