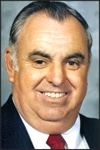 Former Maine-New Hampshire State Legislative Director Ernest "Ernie" A. Phillips, 77, died March 27.
Phillips was born Jan. 4, 1936, in Milford, Maine. In February 1956, he went to work for Bangor and Aroostook Railroad as a trainman. In July 1962, he was employed by Maine Central Railroad as a trainman and conductor. He was a member of Local 663 at Bangor, Maine.
In 1980, he was elected as general chairperson for UTU General Committee of Adjustment GO 529 representing Maine Central, Portland Terminal, Grand Trunk Railroad CN, CP Railroad, Lamoine Valley Railroad and Central Vermont. He also went on to be elected UTU International alternate vice president.
Phillips was a 33-year member of Portland Elks Lodge No. 188, a member of the Air National Guard and a member of American Legion Post No. 24.
He is survived by his wife, Donna; children Dawn, Michael, Randy and Patrick, and seven grandchildren.
A funeral service was held April 2 at Brookings-Smith, 133 Center St., in Bangor, Maine. Interment will be at Lakeview Cemetery in Glenburn at a later date. Condolences to the family may be expressed at www.Brookings-Smith.com.