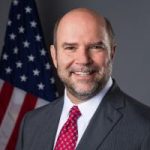 Washington – Philip A. Miscimarra has been named chairman of the National Labor Relations Board (NLRB) by President Donald J. Trump.  
"It is a great honor to be named NLRB Chairman by the President," Miscimarra said. "The Board has the important responsibility of applying the National Labor Relations Act in an even-handed manner that serves the interests of employees, employers and unions throughout the country. I remain committed to these efforts."
President Trump designated Miscimarra NLRB chairman, April 24, 2017, after the White House announced the President's intent to name Miscimarra Chairman April 21.  Miscimarra had been previously designated Acting Chairman by President Trump January 23, 2017, and served as a Board Member since August 7, 2013. Miscimarra was nominated April 9, 2013, to serve on the Board, and was approved unanimously by the Senate Committee on Health, Education, Labor and Pensions May 22, 2013. He was confirmed by the Senate July 30, 2013, and his current term expires December 16, 2017. 
The NLRB also consists of NLRB Member Mark Gaston Pearce (previously NLRB Chairman), whose term expires August 27, 2018; and NLRB Member Lauren McFerran, whose term expires December 16, 2019. Two Board member seats are currently vacant. 
Before joining the Board, Chairman Miscimarra was a Senior Fellow at the University of Pennsylvania's Wharton Business School in the Wharton Center for Human Resources, and a labor and employment law partner with Morgan Lewis & Bockius LLP in Chicago. He also previously worked as a labor and employment attorney with Seyfarth Shaw LLP; Murphy Smith & Polk PC (now the Chicago office of Ogletree, Deakins, Nash, Smoak & Stewart, PC); and Reed Smith Shaw & McClay (now Reed Smith LLP). 
Miscimarra received his Juris Doctor from the University of Pennsylvania Law School; a Master of Business Administration from the University of Pennsylvania's Wharton Business School; and a Bachelor of Arts, summa cum laude, from Duquesne University.