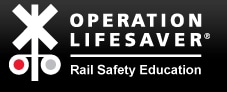 Operation Lifesaver, Inc. (OLI), in partnership with the Federal Highway Administration (FHWA), announced more than $200,000 in grants to 13 State Operation Lifesaver programs for a variety of highway-rail grade crossing safety public education projects, in conjunction with the nonprofit safety group's ongoing "See Tracks? Think Train!" public awareness campaign.
The grants will be awarded to Operation Lifesaver organizations in California, Georgia, Idaho, Illinois, Indiana, Michigan, Minnesota, Ohio, Oregon, South Carolina, Texas, Utah and Wisconsin. These state programs will use the funding to spread "See Tracks? Think Train!" safety messages via television, radio, billboards, sporting events and movie theatre advertising; create eye-catching displays for public education at large events; and target students, school bus drivers, Spanish-speaking populations and the news media to raise awareness about the dangers near tracks and trains.
"The grants will fund a wide variety of projects to expand the reach of our ongoing safety campaign and further Operation Lifesaver's mission of eliminating collisions, injuries and deaths at crossings and along rail property," said Joyce Rose, OLI's president and CEO. "Through our partnership with the Federal Highway Administration, these grade crossing safety education activities will help us reach critical audiences in many of the states where these incidents are most prevalent."
The Federal Highway Administration, a national partner and advisor of Operation Lifesaver, provides the funding for this new grant program, which complements similar grant programs with the Federal Railroad Administration and Federal Transit Administration.
"Our rail safety partnership with Operation Lifesaver is very important to FHWA, and we are proud to be a part of the "See Tracks? Think Train!" educational campaign. Safety is our number one priority at FHWA," said Federal Highway Administrator Greg Nadeau.
Projects funded by the FHWA grants include:
California Operation Lifesaver will initiate a campaign with billboard and bus advertisements featuring the "See Tracks? Think Train!" safety message in key locations in Fresno, Kings, Los Angeles and San Bernardino counties during September, which has been designated Rail Safety Month across the state.
Operation Lifesaver Georgia will air the "See Tracks? Think Train!" radio and television public service announcements (PSAs) throughout the state.
Illinois will work with Metra Commuter Rail to place "See Tracks? Think Train!" banners on the outside of commuter rail cars and on electronic signs in the Ogilvie Transportation Center in Chicago.
Indiana will target communities along the Jeffersonville to Indianapolis rail corridor with outreach to schools, truck driver and driver education organizations, "See Tracks? Think Train!" radio PSAs on iHeart Radio stations, signage at crossings, and law enforcement safety blitzes.
Michigan's project involves creating and distributing a booklet detailing crossing safety laws, including the "See Tracks? Think Train!" graphics and message, to law enforcement agencies, judges and prosecutors across the state.
Minnesota plans a multi-faceted approach that will incorporate "See Tracks? Think Train!" PSAs and messages at the Minnesota Transportation Museum in St. Paul, the North Shore Scenic Railroad in Duluth, the Minnesota State Fair, and at an event with the Minnesota Towards Zero Deaths Coalition, among other venues.
Ohio will conduct targeted "See Tracks? Think Train!" billboard, online and radio advertising in communities along rail corridors experiencing increased freight rail traffic.
Oregon will reach professional truck drivers by distributing safety brochures and visor cards through the state's Department of Transportation; in addition, they will air radio and television PSAs on Spanish language stations across the state.
South Carolina will target schools throughout the state in close proximity to train tracks with a plan to distribute "See Tracks? Think Train!" materials and PSAs to students and school activity bus drivers.
Texas will conduct a 60-day digital truck stop ad campaign at truck stops targeting CDL drivers of tractor-trailers and large trucks along Texas freight corridors in the South and Southeast.
Utah will purchase "See Tracks? Think Train!" TV and movie theater ads to combat dangerous driver behavior at railroad crossings, and distribute posters to school districts and trucking companies.
Wisconsin conducted a statewide Rail Safety Week effort using the "See Tracks? Think Train!" radio and billboard ads that included safety blitzes, social media and other events.
The 13 approved grants were awarded through a competitive process. Selections were made by a panel of safety experts using criteria including successfully leveraging the federal funds with private partnerships, targeted messaging and frequency of highway-rail collisions.
Operation Lifesaver plans to announce the results of a similar grant program for rail transit safety education projects this fall.