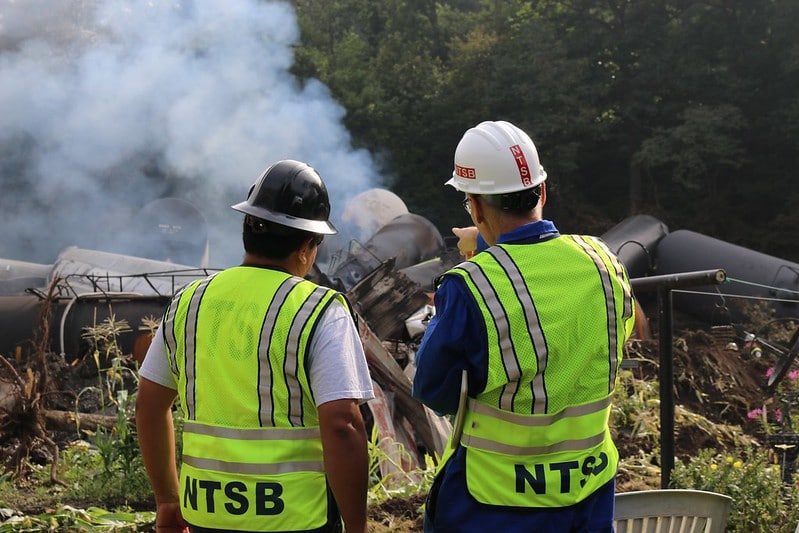 WASHINGTON (Dec. 10, 2020) — The National Transportation Safety Board issued Rail Accident Report 20/04 Thursday for its investigation of the Aug. 2, 2017, CSX Transportation, Inc. freight train derailment and release of hazardous materials near Hyndman, Pennsylvania.
No injuries were reported in connection with the derailment of 33 of 178 rail cars but three homes were damaged and about 1,000 residents were within the 1-mile radius evacuation zone. CSX estimated damages at $1.8M.
The accident train consisted of five locomotives and 178 cars, 128 of which were loaded, and 50 rail cars were empty.
NTSB investigators determined the probable cause of the derailment was the inappropriate use of hand brakes on empty rail cars to control train speed, and the placement of blocks of empty rail cars at the front of the train consist. Investigators also determined CSX operating practices contributed to the derailment.
Safety issues addressed in the investigation include:
CSX operational practices for building train consists that allowed for excessive longitudinal and lateral forces to be exerted on empty cars
Use of hand brakes to control train movement
Assessment and response to fires involving jacketed rail tank cars
Based on its investigation the NTSB issued a total of six safety recommendations, including one to the Federal Railroad Administration, three to CSX, one to the Association of American Railroads and one to the Security and Emergency Response Training Center. The recommendations seek:
Guidance for railroads to use in developing required risk reduction programs
Revision of rules for building train consists
Prohibiting use of hand brakes on empty rails cars for controlling train movement in grade territory
Incorporation of the lessons learned from this derailment about fire-exposed jacketed pressure tank cars in first responder training programs
Rail Accident Report 20/04 is available online at https://go.usa.gov/xA3Bb and the docket for the investigation is available at https://go.usa.gov/xA3ZE.