WASHINGTON – In reaction to a split between the state of Washington and federal agencies over the review process for new export terminals in the Pacific Northwest, representatives from the SMART Transportation Division, formerly the United Transportation Union, and the International Union of Operating Engineers Sept. 25 announced their overwhelming support for the U.S. Army Corps of Engineers environmental review process.
"Recently, the Army Corps of Engineers announced they would conduct their site specific review of the proposed west coast terminals, just as they have always done at other port projects," said Transportation Division Alternate National Legislative Director John Risch. "That decision is reasonable and rational and we applaud them for it. We support Environmental Impact reviews that have high environmental standards. We support building and expanding ports in environmentally sound ways and ones that require that any environmental concerns are adequately mitigated."
Labor organizations are concerned about the potential consequences of Washington State's unprecedentedly broad review of the export projects. Labor organizations fear the precedent set by the state review could impact infrastructure spending, trade investments and accompanying manufacturing jobs. The port expansion projects have been endorsed by a number of national and state labor organizations and will generate significant new union employment opportunities in the Pacific Northwest.
"We believe that Washington State is putting the Northwest's primary economic driver – trade – in jeopardy with this approach," said SMART's Washington State Legislative Director Herb Krohn. "Washington's proposed review process will set a dangerous precedent across our state, region and country when it comes to the development of infrastructure, and could be applied to many products – from airplanes, cars, to even agricultural or timber products."
The announcement came in conjunction with the first hearings to be conducted separately by the Army Corps of Engineers and Washington State officials. Some oppose the terminals, on the basis that they will be used to ship coal in addition to other commodities. Increased coal shipments in particular will provide substantial private investment in infrastructure, something that will not only create new jobs, but will make the west coast ports more competitive.
Jeffrey Soth of the Operating Engineers concluded, "We urge the Washington State of Ecology to cooperate with the Army Corps of Engineers to conduct a review that is fair, accurate and timely. Further delays will inhibit the growth of our economy and ensure the world's growing energy demand is met by other countries that do not share America's values for protecting workers or the environment."
Washington State AFL-CIO leaders testified in front of a committee of the King County Council that not only had the state chapter come out in support last year of the Gateway Pacific Terminal, but also that the national AFL-CIO passed a resolution during its convention earlier this month in support of the project.
The King County Council committee put off its vote on a motion to oppose the terminal project after Krohn spoke in support of it.
"The national AFL-CIO resolution joins the state AFL-CIO endorsement from last year, in its strong statement in support of the Northwest coal export projects and echoes what labor in the Northwest has been saying all along — these projects will bring long-term employment for families across the state, millions in private investment for infrastructure, and money for cash strapped schools," Krohn said.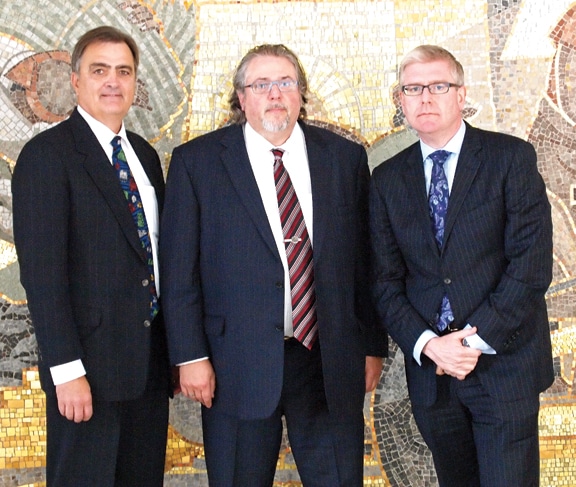 Pictured, from left, are SMART?Transportation Division Alternate National Legislative Director John Risch,
SMART?Washington State Legislative Director Herb Krohn and Jeffrey Soth,
assistant director of the Department of Legislative and Political Affairs, International Union of
Operating Engineers, at a Sept. 25 press conference at the AFL-CIO in Washington, D.C.