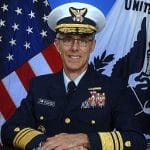 WASHINGTON, D.C. — Department of Homeland Security Secretary Jeh Johnson welcomed Peter Neffenger Monday, July 6, as the sixth administrator of the Transportation Security Administration in a ceremony held at TSA headquarters in Arlington, Virginia.
Neffenger was confirmed by the U.S. Senate June 22, 2015, following his nomination by President Barack Obama. He now leads a workforce of approximately 60,000 employees, the security operations at nearly 450 airports throughout the United States, the Federal Air Marshal Service, and shared security for highways, railroads, ports, mass transit systems and pipelines.
"TSA's mission is critical to the safety and security of our nation. I am deeply honored to continue serving our country, particularly alongside the dedicated men and women of TSA," said Neffenger. "I look forward to applying my years of leadership experience, law enforcement background and security skills to protecting our nation's transportation systems."
Neffenger recently retired from the U.S. Coast Guard, where he held many operational, staff and leadership positions during his 34-year career. Before joining TSA, he served as the 29th Vice Commandant, a position held since May 2014. Prior to this post, Neffenger served as the Coast Guard's Deputy Commandant for Operations, where he directed strategy, policy, resources, and doctrine for the employment of Coast Guard forces globally. He is a recognized expert in crisis management, port security, and oversight of the commercial maritime industry. He most notably served as the Deputy National Incident Commander for the 2010 BP Deepwater Horizon oil spill, the largest and most complex in U.S. history.
Neffenger officially took the oath of office as administrator on July 4, 2015.