As COVID-19 has spread across the country, some carriers and businesses have been caught flat-footed in dealing with the pandemic as indicated by field reports we've received from members.
The same cannot be said for front-line SMART Transportation Division members who have sprung into action to help their communities and fellow members cope with the effects of the coronavirus.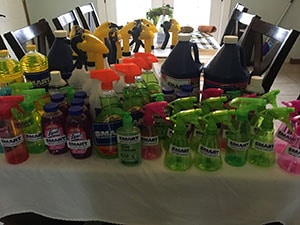 General Chairperson Justin Wolters (GCA-449) was able to engineer an agreement with a local distillery that provided alcohol-based hand sanitizer to members free of charge.
"I explained our travel ban exemption and our lack of access to running water," Wolters said. "They seemed more than happy to help our union.
"I decided I can't rely on the carrier to protect the members, so our officers are donating cleaning materials daily and cleaning when they can."
Attention to sanitation of work areas also has been a challenge that General Chairperson Larry Miller (GO 386) is doing his best to help meet by providing disinfecting wipes to workers in packages provided by the union.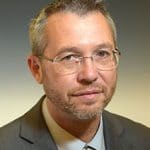 "I wanted to do all I can on my part to keep our members supplied with whatever I could get at our local stores," said Miller, who was elected an alternate vice president at last year's Second SMART-TD Convention. "I know it is not a lot, but it does make a dent. If we all pull together as the SMART-TD team, we will get through this."
Member Mike Speier of Local 6 (Indianapolis, Ind.) took the initiative of purchasing a number of spray bottles from the dollar store, mixing up a bleach solution with four gallons that he purchased on his own, and then placing the filled spray bottles around the yard office.
"They can put posters up when the cows come home, but that's not keeping us safe," Speier said. "It's cheap to do, I followed the instructions on Google and have been filling them up and giving them to the guys.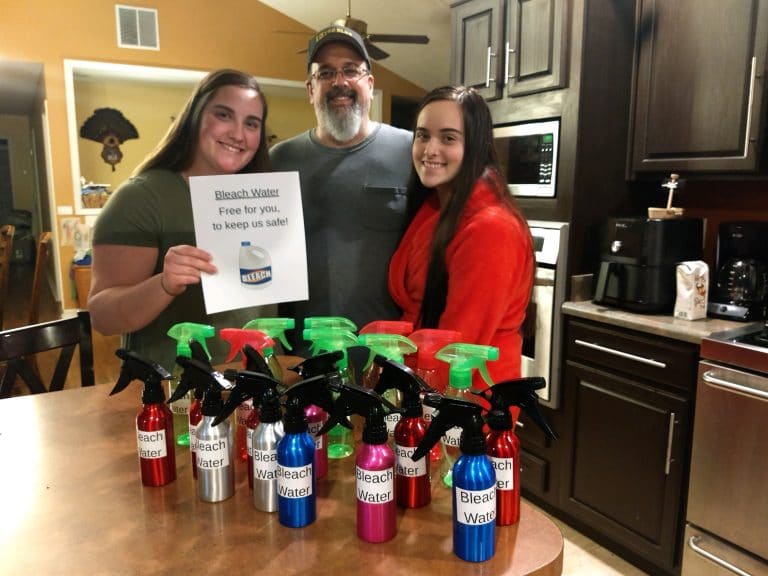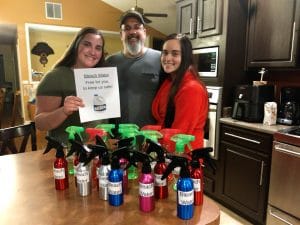 "If I keep my brothers and sisters safe and healthy, it ensures that I come home safe and healthy."
If managers would give workers a bit of extra time to sanitize and disinfect their worksites — about 10 minutes — and allow the people to pull together, it'd help to reduce the risk of the coronavirus spreading, he said.
"You have a half-dozen guys buy bottles and bleach water, and we can really nip this in the bud," Speier said.
Some members are doing their best to keep others informed.
On the West Coast, General Chairperson James Sandoval of the Santa Cruz Metropolitan Transit District and Local 23 (Santa Cruz, Calif.) alternate legislative representative, has been sharing information with members across TD locals and transit agencies alike to help spread information during the outbreak. In particular he is raising awareness about federal and state benefits that are available especially for those who may find themselves unable to work because they or someone they care for is dealing with COVID-19.
"Since we are in uncharted waters with this pandemic, it is extremely important to support each other and share information that may help because there is no book on this," he said. "I have been sharing information with all District 3 general chairpersons, our International, our local labor counsel and other unions. We must step up to make sure nobody feels alone right now because things are changing at a rapid pace."
Sandoval says that a cooperative effort has brought about shift adjustments at both Santa Cruz's bus and paratransit properties by the carrier, which also has eliminated disciplinary procedures on sick calls, begun a no-question 10-day stay-at-home policy, supplied personal protective equipment and implemented bus sanitation practices.
"I couldn't have accomplished improving our workplace strategy around COVID-19 to help protect our members without the support of my great team at our local. I have always believed that working together means we can get through anything — we will come out of this stronger than ever!"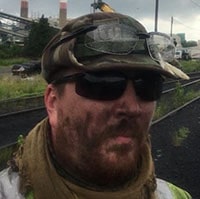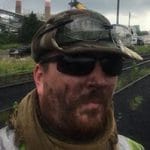 Johnny Walker, legislative representative for Local 610 and secretary of the Maryland State Legislative Board, has been using his experience in the military and as a railroader to help pull people in his neighborhood and at his workplace together to cope with the stresses posed by the pandemic.
Walker wrote a guest column published on the SMART-TD website talking about how members will be essential in guiding the country through this challenge.



New Jersey State Legislative Director Ron Sabol also has been working closely with the state AFL-CIO to distribute information to members, especially members employed by New Jersey Transit, which has been particularly hard-hit by the pandemic.
He praised the efforts of General Chairperson Jerome Johnson (New Jersey Transit conductors) of Local 60 in Newark, as doing an exemplary job in keeping things moving in this time of crisis, as are other NJT members.
"He has been doing everything he possibly can to protect his members and the riding public. After all, NJT operates in and out of New York City," Sabol said. "Our N.J. bus members as well have been dealing with fuller buses because of route cuts."
These examples, as well as other members' efforts that haven't yet been reported to us at news_TD@smart-union.org, are what's going to keep the country moving and our fellow brothers and sisters healthy as we all work through the challenge of this pandemic.
And don't forget that there's a form where members can report conditions not meeting CDC guidelines to prevent the spread of COVID-19.
Union leadership is reviewing each and every submission and is working to get those problem areas resolved, but keep in mind it is impossible for your general chairperson or state legislative board to adequately respond if the situations are not reported. The more details we receive, the better chance we have of getting them corrected.
"I read each and every one of these reports, and we all discuss it daily to ensure someone is following up with a corrective action plan," said Transportation Division President Jeremy R. Ferguson. "Our general chairpersons are doing a fantastic job, and in many cases they are teamed up with our vice presidents in keeping the pressure on the carriers to get the unsanitary conditions and lack of supplies fixed. Our Legislative/Safety Department is following up on the national, state and local levels where needed to ensure members' voices and concerns are being addressed."
Chief of Staff Jerry Gibson of the TD President's Office encourages members to reach out to him at jgibson@smart-union.org for ideas on how SMART-TD members can help pull together resources to assist each other during the coronavirus outbreak. This includes branding supplies with SMART decals so that people know that the union is helping to provide the materials that otherwise would not be available.