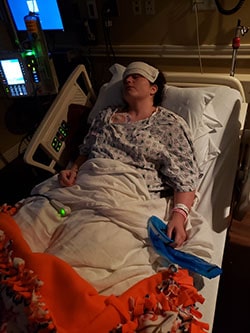 Britnee Griffin, daughter of Mike Griffin (a yardmaster, alternate vice chairperson of GCA 347 and the president of Local 1963 in Louisville, Ky.), has been battling aggressive cancer since the spring. The medical bills for her family are mounting, and an online fundraiser has been established as the 26-year-old continues her treatment.
"The news has been overwhelming," Britnee's mother and Mike's wife, Megan, posted on the online fundraising site GoFundMe. "We are asking for help with medical expenses. Prayers appreciated."
What began as Stage 4 melanoma has spread to Britnee's bones with spots on her skull, right shoulder and on both ribs. Cancer has also been found in her brain, lymph nodes, left breast and lungs. Megan Griffin said in an updated posted about two weeks ago that her daughter is in "unreal" pain. Doctors have prescribed pain medications and have decided to see if chemotherapy treatment for the next two months has any effect on the cancer.
"Any donation would be greatly appreciated," Megan posted. "Thank you and God bless."
To donate or to read more about Britnee's cancer fight, visit the fundraiser on GoFundMe.com.