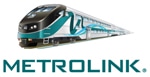 Los Angeles firefighters say nearly two dozen people suffered injuries, mostly minor, when a commuter train struck a car near downtown Los Angeles and partially derailed.
Fire Department spokesman Shawn Lenske says 21 people on the train were hurt in Saturday's crash. He says all but one of the injuries was minor.
Read the complete story at www.ksby.com.