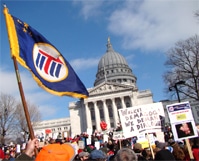 Yet another packet of right-to-work bills has made an appearance, this time in Pennsylvania. Pennsylvania legislators drafted House Bills 50, 51, 52 and 53 to become a "Right-to-Work" state.
Ten different unions marched in downtown Chambersburg, Pa., in protest of the bill over the weekend. If passed, the bills would allow non-union members the same benefits that dues-paying members receive, such as higher wages and benefits and union representation.
House Bill 50, sponsored by Rep. Daryl Metcalfe, seeks to end union membership or dues payment by non-members as a condition of employment.
House Bill 51, sponsored by Rep. Kathy Rapp,  seeks to prohibit unions from collecting dues from non-union public school employees.
House Bill 52, sponsored by Rep. Fred Keller, would prohibit unions from collecting dues from non-union state employees.
House Bill 53, sponsored by Rep. Jim Cox, seeks to prohibit unions from collecting dues from non-union local government employees. Rep. Stephen Bloom is also proposing House Bill 250, that would repeal a state law known as "maintenance of membership." The bill would essentially allow dissatisfied union members to quit their union at any time, as opposed to a current 15-day window toward the end of contracts. Rep. Jerry Knowles also seeks to pass an umbrella bill that would prevent union membership from being a condition of employment in the private sector.
Metcalfe has introduced this union-busting legislation in every session over the past 14 years. This year is viewed as different, because Republicans control both the House and Senate of the Pennsylvania Legislature, as well as the governor's seat.
Legislators in favor of the bill hope to introduce it to the House speaker soon.