United Transportation Union Insurance Association (UTUIA) President Kenneth Laugel proudly announced this month a plan intended to broaden the scope and availability of all of the fraternal benefit society's services to SMART Transportation Division members and its customers nationwide.
"After serving a broad spectrum of our customer base during the COVID-19 pandemic, we found that there were avenues where UTUIA could construct more efficient, more convenient and broader ways to serve all our customers," Laugel said. "We are excited and confident that these improvements will not simply maintain, but elevate the level of service that our members have come to enjoy and expect."
First and foremost is a revamping of the agency's structure approved by the UTUIA board that comes in three major components: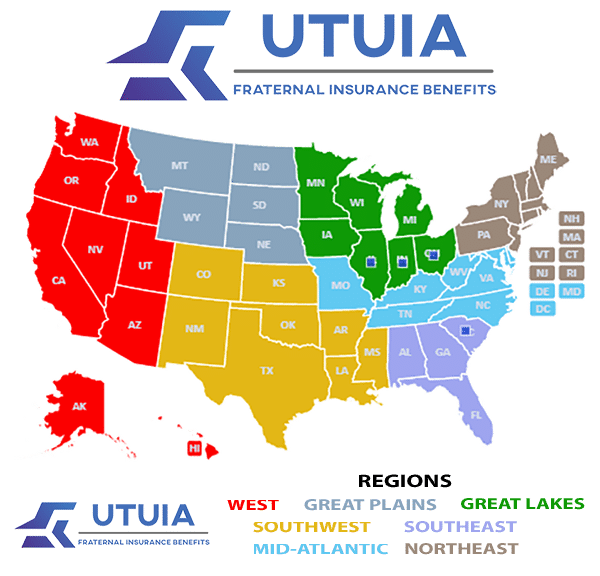 UTUIA agents who were in the former position of Field Supervisor have been dispersed among seven regions encompassing multiple states. Now known as Regional Insurance Managers, they oversee states in the Western, Great Plains, Southwest, Great Lakes, Southeast, Mid-Atlantic and Northeast regions. The accompanying map shows specifics on the regional structure.
Positions of Territory Manager and Assistant Territory Manager also have been created to provide a broader support system to improve service within each region.
Finally, the position of Local Insurance Representative has been redesigned, meaning that every Transportation Division local will have at least one person singularly devoted to fulfilling the needs of members regarding UTUIA benefits.
"These changes are all designed to better increase our visibility to the membership," Laugel said. "Ultimately with more 'boots on the ground' our members will see the greater value that the UTUIA represents to the SMART-TD family."
The change in structure is not the only innovation that the society is undertaking.
UTUIA also has established a partnership with US Bank subsidiary Evalon Inc. to provide secure credit-card processing with full encryption so that paying premiums online is protected at the maximum level available.
"Elavon has a proprietary service that shields all sensitive data," Laugel said. "UTUIA has seen the damage security flaws and breaches have caused to customers in our field. We will always protect members' confidential information."
A Credit Card Services page has been set up on the UTUIA website (www.utuia.org) for enrollment in online premium payments and provides another level of convenience for people who still may be hesitant to venture out as the nation continues to contend with COVID-19.
The pandemic has been a challenge for UTUIA and essential workers alike, but Laugel noted that the 152-year-old fraternal benefit society has continued to be there unabated and undeterred — paying claims and providing scholarships, extending premium grace periods, making policy loans and continuing its steadfast support with charitable donations and contributions to the SMART-TD Disaster Recovery Fund.
"Through this time we have continued to make changes that will serve to strengthen our Society and better serve our members," Laugel said. "We are proud of this effort and are even more proud to continue to protect and serve our members and our customers with our full range of insurance and financial benefits as we emerge from the pandemic."
• A letter from UTUIA President Kenneth Laugel and Secretary Treasurer Jeff Becker to SMART-TD members with more details.
• Visit the UTUIA website for more information