Former four-term UTU International Vice President James "Jim" M. Hicks, of Nortonville, Ky., died March 29 at Baptist Health Hospital. He was 96.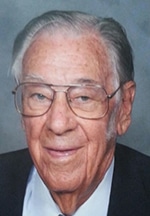 Hicks was local chairperson of Local 904, Evansville, Ind., for 11 years before election in 1963 as general chairperson on Louisville & Nashville Railway (now part of CSX). He was elected alternate vice president of UTU predecessor Brotherhood of Railroad Trainmen in 1968 and re-elected in 1971 and 1975 during UTU conventions. He first took office as an International vice president in 1976. Hicks also served as manager of the UTU Field Service Department from 1981 to 1983. He retired in 1990.
He was preceded in death by his wife of 68 years, Ruth.
He is survived by his two sons, Corkie (Lois) Hicks of London, Ky., and Don (Shirley) Hicks of Owensboro.
In lieu of flowers the family request donations be made to the Shriners Hospital for Children, mail to Rizpah Temple 3300 Hanson Rd. Madisonville, KY 42431.
A link to the full obituary is here.