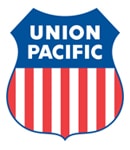 Like a train engineer blessed with good weather and clear tracks, Union Pacific has arrived ahead of schedule.
The railroad company's $400 million intermodal facility in Santa Teresa broke ground in 2011, expecting to be operational in 2015. Instead the Omaha, Neb.-based company announced that it will have a grand opening ceremony on May 28, a year ahead of schedule.
Read the complete story at the Las Cruces Sun-News.