UTU General Chairperson Rich Draskovich (Union Pacific, GO 953) has been recognized by the National Mediation Board (NMB) for "a special achievement" in helping reduce the agency's backlog of rail-labor grievances.
In presenting the award, NMB Chairman Harry Hoglander said Draskovich, on behalf of the UTU, and in concert with Union Pacific and CSX, provided "essential support, leadership, dedication and expertise" in helping the NMB launch a program to attract a diversified pool of 91 new rail arbitrators.
Draskovich served as a classroom instructor at a CSX facility and on three multi-facility tours of Union Pacific across Nebraska, explaining rail operations and craft assignments and skills to more than 255 potential new arbitrators who responded to a recruitment drive by the NMB.
The addition of qualified rail arbitrators is intended to speed further the determination of grievances that reach public law boards and special boards of adjustment created under provisions of the Railway Labor Act.
NMB arbitrators have been "overloaded with cases in recent years, and justice delayed is justice denied," Hoglander said.
To assure new arbitrators understand the rail industry and rail culture, Draskovich helped to develop and initiate the training program.
Included in the training was the presentation of 33 examples of discipline and rules violations that typically might be heard by a railroad arbitrator.
In recent years, the NMB has reduced the backlog of grievances from more than 5,500 to around 300, with some 2,700 new cases being filed annually.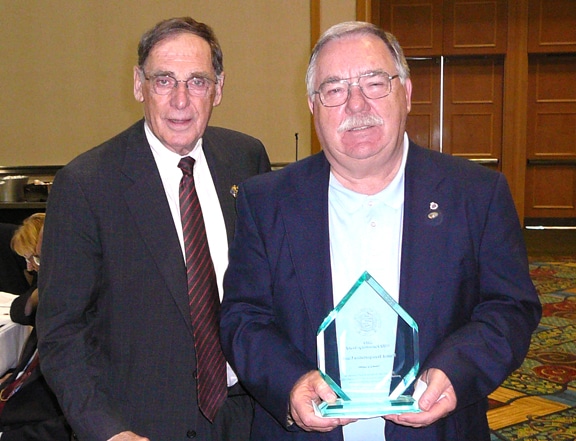 Rich Draskovich, right, with NMB Chairman Harry Hoglander