G. Thomas DuBose, who served one term as president of the SMART Transportation Division's immediate predecessor union, passed away on Aug. 20, 2020, after a short illness.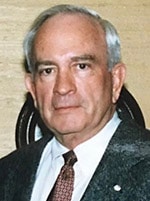 DuBose, United Transportation Union (UTU) president from 1991 to 1995, had experienced health complications recently and had been placed in hospice care. He was 85 years old.
"The union extends its deepest sympathy and condolences to the family and friends of former President DuBose," SMART-TD President Jeremy Ferguson said. "His leadership helped to guide our union through a period of great difficulty and transition. As an organization, we all are saddened, and we mourn his loss."
DuBose assumed the union presidency during a time when great transition was occurring in the use of technology, especially with the establishment of the internet. The union acquired its first mainframe during his administration as UTU made its initial steps toward the computerization of its operations. An email system for the union and an awards database accessible to international officers and general chairpersons was created, and he also oversaw a union restructuring with the consolidation of a number of General Committees, and the establishment of an accident investigation committee. The UTU also joined the Transportation Trades Department (TTD) of the AFL-CIO for the first time during his tenure.
"I feel I left this union in better condition than I found it," DuBose said in a UTU News article as the union transitioned from his leadership to succeeding President Charles L. Little in 1995.
David Hakey, who worked alongside DuBose during his two campaigns for the union presidency and served as a union vice president from 2000 to 2007, spent more than four decades knowing DuBose personally and professionally. In the late 1970s and early 1980s, DuBose was generous in lending his time and guidance to Hakey who was starting out as a general committee officer. DuBose, even then a longtime vice president, showed Hakey the ropes in writing cases and defending members.
"He was my mentor, and he was my friend," Hakey said. "He was always a good steward of the union. He always put the union first and the membership first."
Hakey said DuBose was naturally inclined to put the needs of others ahead of himself, even outside of union business. In one encounter, DuBose and Hakey met a man on the street begging for money. Rather than just giving the man some spare change, DuBose insisted that they take him out to lunch.
"Tom was alway willing to listen," Hakey said. "He was a compassionate individual. He always tried to put the membership first."
Carl Cochran, administrator of the SMART TD Alumni Association, remembered DuBose's active leadership in organizing a team that brought the Florida East Coast Railroad back into the UTU fold and in reaching out to help members in Cochran's home state of Florida to cope with the devastation of the Category 5 Hurricane Andrew in 1992.
"We asked for help from our union, and we got it for our members that lost their homes," Cochrane said.
Born in Macon, Ga., on March 23, 1935, G. Thomas DuBose hired on as a switchman for the Central of Georgia Railway in October 1955 and was a member of Local 535 in Macon, serving as a local officer there. He was elected vice president of the Switchmens' Union of North America (SUNA) in 1967 at the age of 32 and retained that office during the formation of the UTU in 1969.
He served four additional terms as a union vice president before being elected the UTU's assistant president in 1987. At the Sixth UTU Convention in 1991, he defeated then-incumbent UTU President Fred Hardin's bid for a fourth term. DuBose had unsuccessfully challenged Hardin for the presidency at the prior convention.
"We ran a grassroots campaign," said Hakey, who managed DuBose's winning campaign. "instead from the top-down, it was from the bottom up. The membership was desirous of a change and they wanted to see something different."
The union faced a number of fiscal challenges at the time, Hakey said, and DuBose resolved those during his single term, leaving UTU on better financial footing than before. DuBose also was elected and served as secretary-treasurer of the AFL-CIO TTD.
After his 1995 retirement, the former president continued to maintain an association with the union and lent his support to a tentative national rail contract negotiated in 2011 that won approval.
"After Tom retired, he would sit at the Alumni table at the regional meetings with Kenny Menges or myself," Cochran said. "Our members would enjoy Tom telling the history of our union."
Former President G. Thomas DuBose is survived by his two children, Mark DuBose (Margaret), Marty Lee (KD), and three grandchildren, Matthew DuBose, Kristin Lee, and Ben DuBose.
His family thanks SMART General President Joseph Sellers, SMART-TD President Jeremy Ferguson and all members, past and present, for their kind words and condolences during this difficult time. In lieu of flowers, the family requests that all donations be made to a charity of their choice. Due to COVID-19, the burial will be a private graveside service on September 9th. To express condolences, please visit https://www.dignitymemorial.com/obituaries/macon-ga/g-thomas-dubose-9326937.
The SMART Transportation Division offers its deepest condolences to the DuBose family, his friends and his Local 535 brothers and sisters in their time of loss.