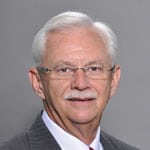 At the conclusion of the SMART Transportation Division's Boston regional meeting July 3, Transportation Division President Mike Futhey announced he will step down from office, pending resolution of arbitration proceedings regarding the union's constitution.
In October 2011, Georgetown University law professor Michael H. Gottesman ruled the agreement to create the International Association of Sheet Metal, Air, Rail and Transportation (SMART) Workers by a merger of the United Transportation Union and the Sheet Metal Workers International Association was an enforceable agreement and the two unions have been working to complete the merger since that time.
The arbitration proceedings center around interpretations of various articles of the UTU's Constitution as it is inserted into the SMWIA's bylaws to complete a final SMART Constitution.
Gottesman is again serving as the arbitrator in the current proceedings.
During a town hall forum at the Boston regional meetings opening ceremonies July 1, Futhey said agreement had been reached with most of the SMART constitution articles, but that several disputes remain. He indicated he would remain in office through the arbitration process, developing the constitution language for the transportation division.
He said the union does not want to release portions of the constitution that have been agreed upon until a final document has been decided upon.
"The final document is not a final document until that arbitration decision is made," Futhey said.
Under the articles of the current UTU Constitution, Assistant President and General Secretary & Treasurer John Previsich would be elevated to fulfill Futhey's unexpired term as president of the SMART Transportation Division.
Futhey is the eighth president of the UTU, currently known as the SMART Transportation Division. He was elected president in August 2007 and assumed office Jan. 1, 2008. He was re-elected president in August 2011.