This is an important year for the direction of our country, and as we do on the roads and on the rails of these great United States, SMART Transportation Division will lead the way.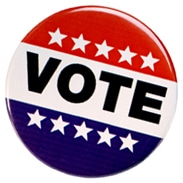 With your vote comes the chance to shape where the future of the transportation industry will go by selecting those candidates who support issues, such as two-person crews, the safety of our bus operators and yardmaster legislation, that are important to us.
Not registered? Voters in California, Colorado, Connecticut, Hawaii, Idaho, Illinois, Iowa, Maine, Minnesota, Montana, New Hampshire, Utah, Vermont, Washington, D.C., Wisconsin and Wyoming can still register and vote today!
Elections matter. Be sure to have your say about the future of your paycheck, your healthcare, your retirement and your safety on the job.
For election and poll location information in your state, text "VOTE UNION" to 21333. Message and data rates may apply.