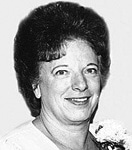 Edythe Mae Walter, former International president of the Auxiliary of the United Transportation Union, passed away peacefully on July 30, 2014. She was 78.
She is survived by her husband, Bob Walter, with whom she celebrated 60 years of marriage on June 22. They also shared their birth date of April, 28, 1936. She is also survived by children, Cindy (Denny) Robish, Tom (Tammie) Walter and Amy (Andy) Fox, and grandchildren Alesha Robish, Erica and Nathan Walter, and Logan, A.J. and Parker Fox.
Family and friends will be received Friday, Aug. 1, 2014, from 6-8 p.m. and Saturday, Aug. 2, 2014, from 12-2 p.m. at the Marsh Funeral Home, 201 W. Main St. in Woodville, Ohio. Funeral services will be conducted at 2 p.m. Saturday. Interment will be at Westwood Cemetery in Woodville, Ohio. Considerations for memorial contributions are to Ohio State Grange-Youth Division, 16303 Township Rd. 608, Fredericktown, Ohio 43019 or Auxiliary of UTU Scholarship Fund, 2153 N. Hwy 99, Emporia, KS 66801-8101. Those wishing to express a word of encouragement, share a memory or photo, may do so at marshfuneralhomes.com.