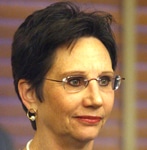 Surface Transportation Board Chairman Daniel Elliott III yesterday announced Deb Miller has been sworn in as the 12th board member since the agency was formed in 1996.
She will serve a term that expires on Dec. 31, 2017. President Barack Obama nominated Miller for the STB post in September 2013 and the Senate confirmed the appointment on April 9. A Democrat from Kansas, Miller will fill the seat formerly held by Francis Mulvey, whose term expired.
Read the complete story at Progressive Railroading.