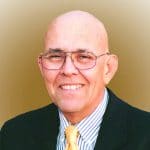 Retired former United Transportation Union (UTU) General Secretary & Treasurer Daniel E. Johnson III, 67, passed away early May 21, 2015, according to reports received by the SMART Transportation Division.
Johnson, who retired in August 2007 and was living in Lincoln, Cal., had been battling a number of health issues.
Funeral arrangements have not been determined.
Johnson was elected as the UTU's General Secretary & Treasurer by the UTU Board of Directors in February 2001. He was subsequently re-elected to that position by acclamation at the UTU's 2003 Quadrennial Convention, and continued to serve in that post until he retired in August 2007.
Johnson began his career in 1966 as a brakeman on the Southern Pacific, and was promoted to conductor in 1970. He joined Brotherhood of Railroad Trainmen Lodge 460 (now Smart Transportation Division Local 807, in Tucson, Ariz.) in June 1966, and served as Vice Local Chairperson from 1969 to 1972, Local Chairperson from 1973 to 1980, Legislative Representative from 1971 to 1980, Delegate from 1975 to 1979, and Chairperson of the Arizona State Legislative Board from 1975 to 1983.
He also served as Vice General Chairperson from 1981 to 1990, and then General Chairperson of General Committee of Adjustment GO-887, for Southern Pacific Lines (Western) from 1990 to 1997.
Johnson was elected UTU Alternate Vice President-West in 1995, and became UTU Vice President in June 1997. He was re-elected to that post at the 1999 UTU Quadrennial Convention.
In addition, Johnson chaired the Southwest General Chairperson's Association from 1991 to 1996, the Western General Chairperson's Association from 1996 to 1997, and was a member of the UTU/BLE Merger Committee in 1993. A member of UTU's National Negotiating Committee in 1995 and 1996, he also was a member of the National Wages & Rules Panel from 1997 until his retirement.
Johnson was proud to have been a founding trustee of the National Railroad Retirement Investment Trust, serving from its inception February 1, 2002, until January 31, 2004.
He was also proud of a white paper he authored entitled, "We Must Stop the 'Race to the Bottom,'" which argued for unification of all operating historical railroad crafts as a means of standing forcefully against the carriers in the 21st Century.
A member of the University of Arizona Alumni Association, he received a B.A. in 1969 and attended graduate school there in 1969 and 1970. He served from 1973 to 1975 on the board of directors of Planned Parenthood in Tucson, Ariz.
The family asks that persons wishing to make donations in Johnson's memory be made to: Fisher Center for Alzheimer's Research Foundation, 110 East 42 St., 16th floor, New York, NY 10017. Checks should be made payable to 'Fisher Center for Alzheimer's Research.' Donations can also be made online at www.alzinfo.org. 
A celebration of life is being planned for July or August.