U.S. Secretary of Transportation Elaine L. Chao has announced that Federal Aviation Administration (FAA) Deputy Administrator Daniel K. Elwell will serve as Acting FAA Administrator upon the conclusion of Administrator Michael Huerta's term. Huerta's term ended at midnight on Jan. 7, 2018.
"Our nation is grateful for Administrator Huerta's service to the FAA and his commitment to aviation safety," Chao said of Huerta.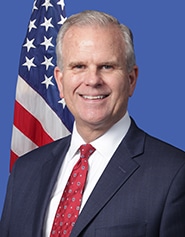 Elwell was appointed the FAA Deputy Administrator in June 2017. Elwell took office at 12:01 a.m. on Jan. 7. He was replaced as deputy administrator by Carl Burleson, the deputy assistant administrator for policy, international and environment in an acting capacity. FAA's Deputy Assistant Administrator for Information and Technology Tina Amereihm has taken over as FAA chief of staff, replacing Chris Rocheleau. Rocheleau was recently named as executive director for international aviation.
Elwell has a wealth of experience with the FAA and other agencies, having held various positions such as FAA assistant administrator for policy, planning and environment from 2006 – 2008; senior vice president for safety, security and operations at Airlines for America from 2013 to 2015; and vice president of the Aerospace Industries Association from 2008 – 2013.
Elwell also served the airline industry as a commercial pilot for 16 years with American Airlines. He is also a former U.S. Air Force lieutenant colonel who saw combat during the Operation Desert Storm conflict.