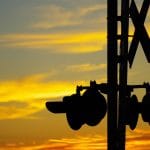 WISCONSIN RAPIDS, Wis. (WSAU) — Federal Railroad Administration officials were in Wisconsin Rapids Monday to discuss problems including parked trains blocking roadways for long periods of time.
Congressman Ron Kind joined local officials and the Regional Federal Railroad Administrator from Chicago to discuss that and other railroad issues.
Kind says he agrees with FRA staff that current regulations related to blocking roads are inadequate.  "The regulation on railroads, when it comes to the blockages, is pretty weak right now, and either they step up and do the right thing or Congress may be needed in order to intervene and perhaps pass some legislation."
Read more from whbl.com.