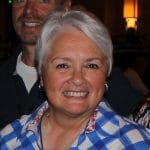 Charlene Payne, a long-time UnitedHealthcare representative for the Railroad Accounts, passed away unexpectedly Saturday, December 17, 2016.
Payne was a dear friend to many at SMART Transportation Division, and her passion and dedication in serving all railroad members was remarkable.
In 1987, she joined one of United Healthcare's legacy companies, The Travelers Insurance Company, as a member services consultant for Railroad Accounts. She continuously served our railroad members in various roles, most recently as the manager of member relations.
Payne traveled extensively throughout the country meeting with union leaders and their dependents. She shared her expertise by explaining railroad health benefits and eligibility provisions for both active employees and retirees. Over the years, Payne developed close relationships with many railroad members by answering their questions and resolving their problems with care and compassion.
"Charlene was my go-to person whenever our members had problems with their health care issues," said SMART TD National Legislative Director John Risch. "Beyond her years of dedication to our members, Charlene was a wonderful person and a good friend. We share with her family in the sorrow of her passing."
Everyone who knew Charlene will miss her knowledge, professionalism, friendliness and unwavering dedication to assist SMART TD members and retirees.
Private funeral services will be held Friday, Dec. 23 in Salt Lake City, Utah. Flowers may be sent to Jenkins-Soffe Funeral Chapels & Cremation Center, 1007 W. South Jordan Parkway, South Jordan, UT 84095.
Donations may be made in Payne's memory to the Humane Society of Utah, P.O. Box 573659, Murray, UT 84157-3659; or, to the American Red Cross – Donations, 555 East 300 South, Ste. 200, Salt Lake City, UT 84102.