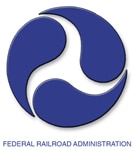 WASHINGTON — The Federal Railroad Administration (FRA) today issued a safety advisory recommending actions that passenger railroads take to prevent trains from speeding.  The advisory is the latest in a series of steps FRA has taken to keep passenger railroads safe for the traveling public.
"Today the FRA is taking a smart and targeted approach to addressing a major issue involved in recent passenger rail accidents," said U.S. Transportation Secretary Anthony Foxx.  "Safety is our top priority at the Department, and today's advisory is but one step we are taking to raise the bar on safety for passenger rail."
The FRA recommends that passenger railroads immediately take the following actions to control passenger train speeds:
Identify locations where there is a reduction of more than 20 mph from the approach speed to a curve or bridge and the maximum authorized operating speed for passenger trains at that curve or bridge.
 Modify Automatic Train Control (ATC) systems (if in use) to ensure compliance with speed limits.
 If the railroad does not use ATC, ensure that all passenger train movements through the identified locations be made with a second qualified crew member in the cab of the controlling locomotive, or with constant communication between the locomotive engineer and an additional qualified and designated crewmember in the body of the train.
Install additional wayside signage alerting engineers and conductors of the maximum authorized passenger train speed throughout the passenger railroad's system, with particular emphasis on additional signage at the identified locations.
"The FRA fully expects passenger railroads to take immediate action and implement these recommendations," said Acting Federal Railroad Administrator Sarah Feinberg.  "We will continue to take action in the coming weeks to prevent human error from causing accidents and to keep passengers safe on the nation's railroads."
To view a copy of the Safety Advisory, click here.