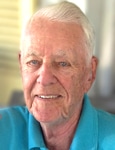 Arch "Tom" Otto, 91, former national president of the Railroad Yardmasters of America from 1971 to 1985, passed away Feb. 23, 2014.
Otto was born Aug. 24, 1922, in Wheeling, W.Va., graduated from Wheeling High School and attended Bethany College.
A member of SMART Transportation Division Local 1951 at Albany, N.Y., Otto began his 45-year railway career as a clerk, quickly advancing to yardmaster for the Pennsylvania Railroad in Weirton, W.Va. He served as a local chairperson and a general chairperson for Pennsylvania Central yardmasters before being elected national president of the Railroad Yardmasters of America in 1971. He served in that role until his retirement – and the RYA's merger with UTU – in 1985.
As national president, he negotiated 12 national agreements on behalf of RYA employees and their families, including wage increases, creation of a new dental plan and improved health benefits.
After his retirement, he and his wife relocated from Mt. Prospect, Ill., to Palm Beach Leisureville in Boynton Beach, Fla., where he served on many committees and was elected president of the community's board of directors.
Otto is survived by his wife of 67 years, Kay, daughters Alison and Heather, son-in-law Mike Liddicoat and granddaughter, Kathleen Liddicoat. He was pre-deceased by his son, Alan Thomas ("Tim") Otto of Chicago, who was also a yardmaster.
A celebration of his life was held Feb. 28 in Leisureville, with a burial in Wheeling.