On Wednesday, Sept. 30, members of SMART Transportation Division led the way, along with members of the BLET and TCU/IAM, uniting in cities across America to spread awareness about cuts coming to Amtrak if the Senate fails to act now. 
On Sept. 9, Amtrak President and CEO William Flynn appeared before a U.S. House committee saying that the carrier needs approximately $5 billion in emergency funding to deal with the effects of the COVID-19 pandemic. 
If no additional funding is provided by the federal government, the carrier has announced cuts, effective Oct. 1, of approximately 2,000 unionized employees and a planned reduction of service that would hit long-distance and state-run routes that serve rural areas especially hard. 
Rallies were scheduled by SMART-TD and other unions to take place a day before the planned cuts in four major cities: Washington, D.C., New York City, Chicago and Los Angeles.  
In a show of support for Amtrak funding and in an effort to raise awareness, Wisconsin State Legislative Director Andy Hauck and Michigan State Legislative Director Donald Roach, with the help of Local 168 member Nate Hatton (Dearborn, Mich.), also led the members in conducting pop-up rallies in Milwaukee and Dearborn, Mich., respectively. 
Chicago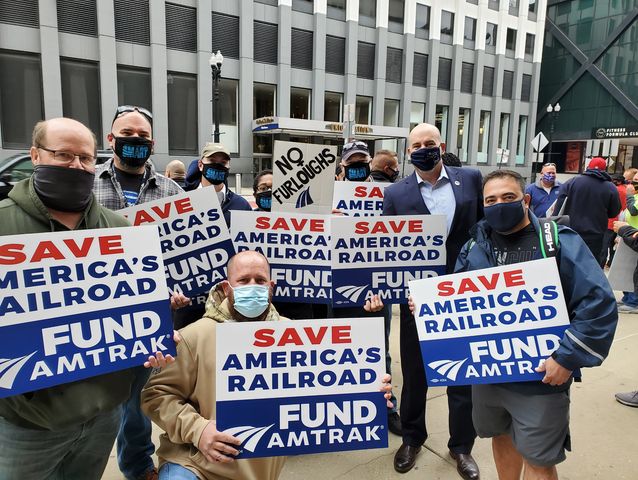 SMART-TD President Jeremy Ferguson accused Amtrak management of setting up the nation's major passenger carrier to fail at the rally in Chicago, "They [Amtrak's Flynn and his board] want to take Amtrak and reduce it to a three-day-a-week service for a long-haul with a two-day layover here in Chicago when you're trying to go from New York to L.A. How is that fair to the ridership? There's no way that's going to survive. That's set up to fail. The couplets aren't there. They can't keep people moving. They're setting us up to fail." 
Ferguson continued to address the assembled crowd, "We bust our butts, day in and day out, to give our country this service, and this is what the board wants to do. Now you guys have gone one step further, you Amtrak employees. You voted to waive off your pay increase this past July. You did what was best for this country and for Amtrak, didn't you? How did you get repaid? With the threat of furlough tomorrow, right? Two thousand people could be in the streets tomorrow!" 
Ferguson also pointed out that Amtrak management is restarting their salaries and 401(k) contributions coinciding with the Oct. 1 scheduled implementation date of furloughs of 2,000 union members. He also stated that Amtrak management has restructured their bonus program to better benefit themselves. 
"We're not going to take that! We're not going to stand for that! Not when you gave up your pay raises to protect this country and this service! Unheard of! So, let's get busy out there! Let's get fired up!"  
Washington, D.C.
Meanwhile, at a rally outside the U.S. Capitol building, SMART General President Joe Sellers gave a rousing speech to the crowd featuring many members employed by Amtrak who might lose their jobs.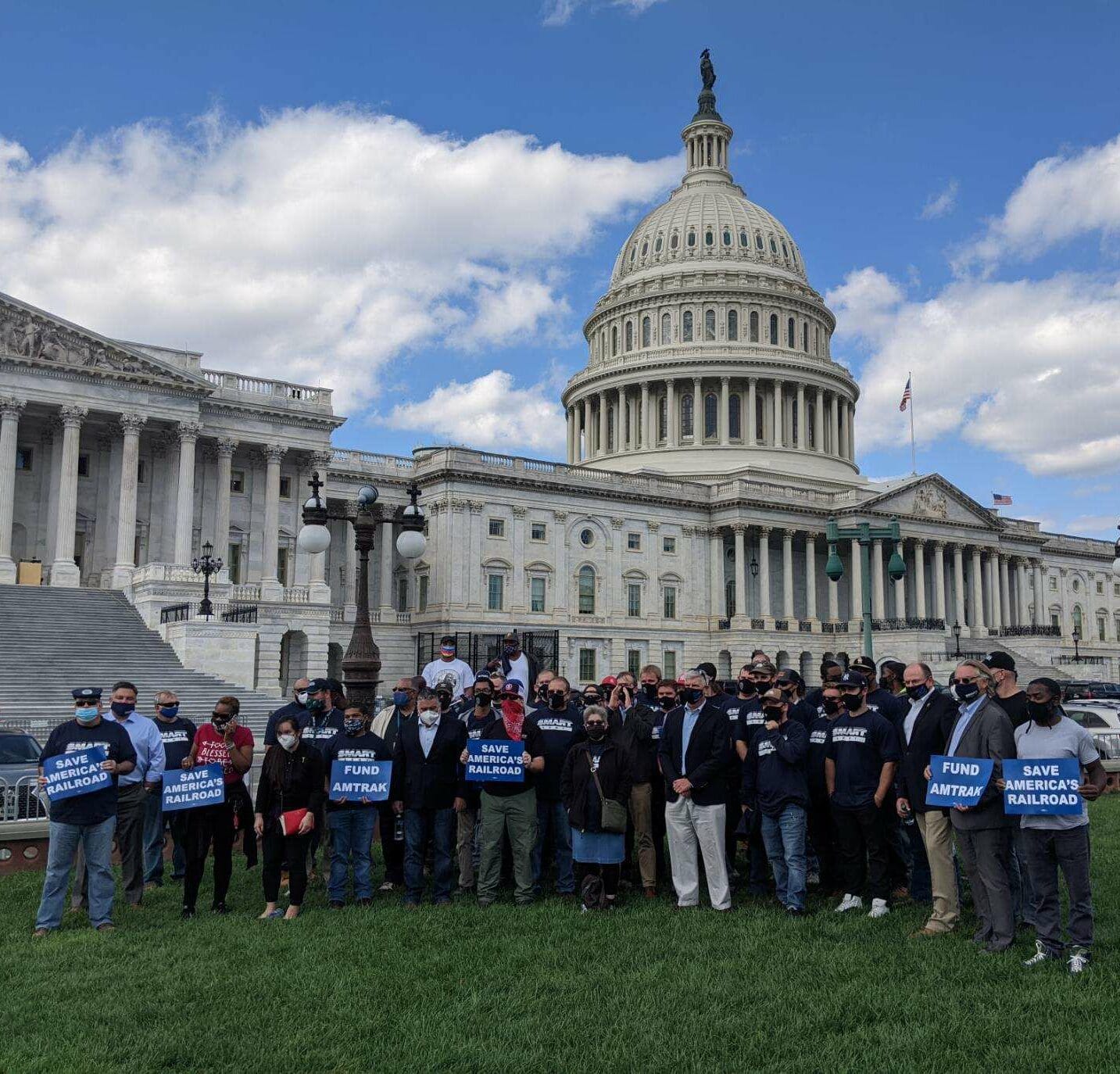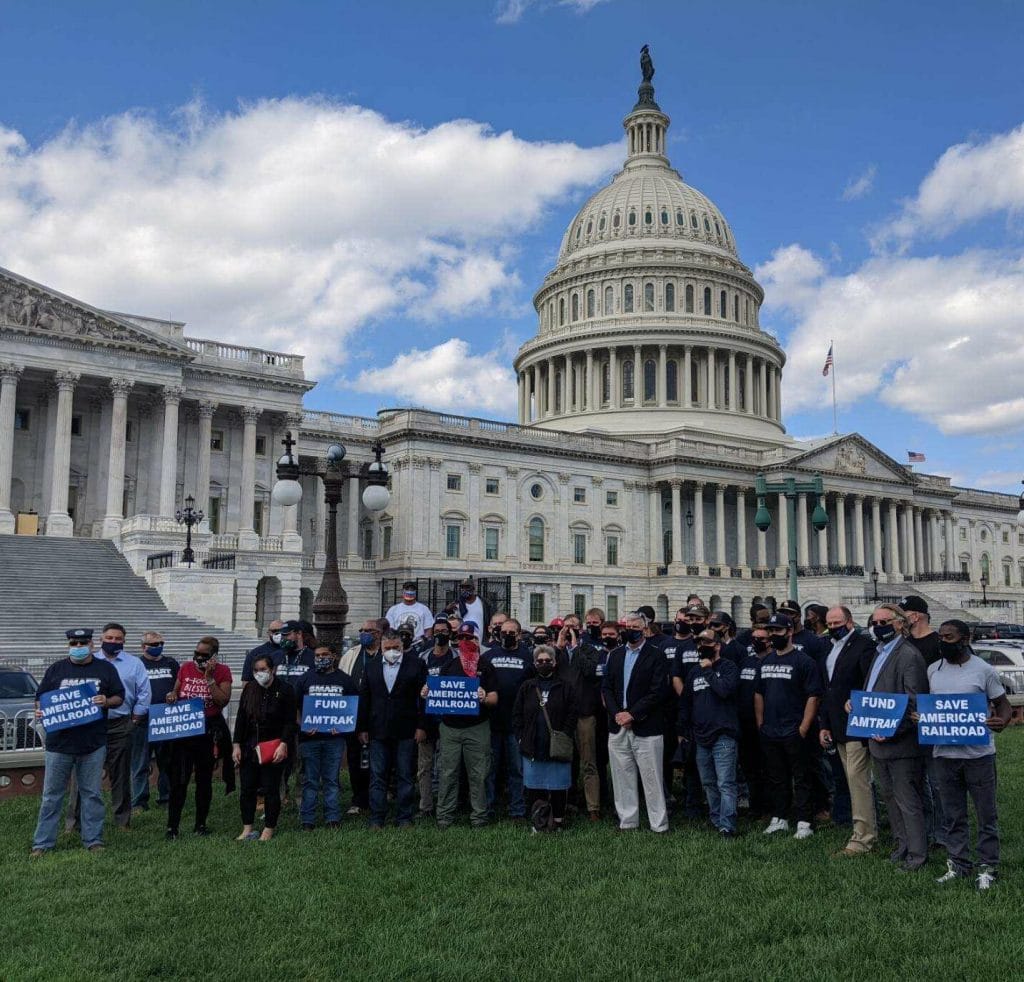 "You are our essential workers. You are moving our essential workers. Every day, to the hospitals, to the first responders, to the police. You are moving America! We need to continue to make sure that you have the funding, to continue to make sure that you continue to move America through this pandemic! We need you! And we need Congress to make sure that they pass the HEROES Act." 
Sellers pointed out that the HEROES Act, or H.R. 6800, was relaunched on May 15, 2020, and has yet to be voted on by the U.S. Senate. "We need to make sure that the new relaunched HEROES Act is passed. To protect you. To protect essential workers. To protect the job that you do, day in and day out," Sellers said. 
Sellers concluded his fiery speech by thanking our essential Amtrak members, "I want to thank you for the work that you do, and Congress should be thanking you for the work that you do day in and day out! We need the Senate to make sure that they take this seriously. The White House is dragging their feet. The Senate is dragging their feet. That is unacceptable! Thank you, brothers and sisters. We are going to make a difference and we are going to effect change. We are going to effect change in November, and we are going to carry this through." 
SMART-TD Alternate National Legislative Director Jared Cassity was also featured in a report that aired on Fox 5 News in D.C. at the rally and U.S. Reps. Tim Ryan of Ohio and Stephen Lynch of Massachusetts also spoke at the rally. 
New York City and Los Angeles, Calif.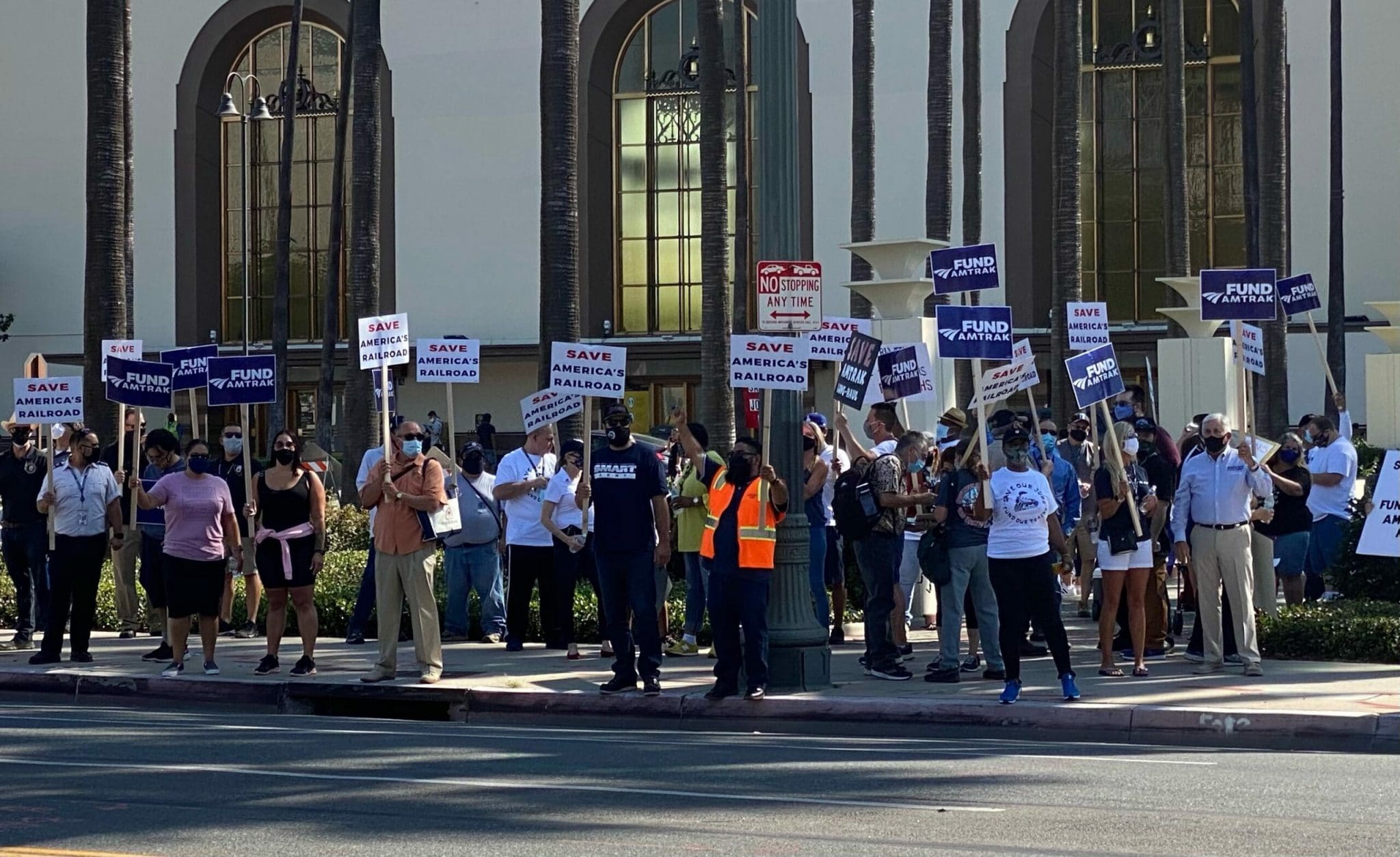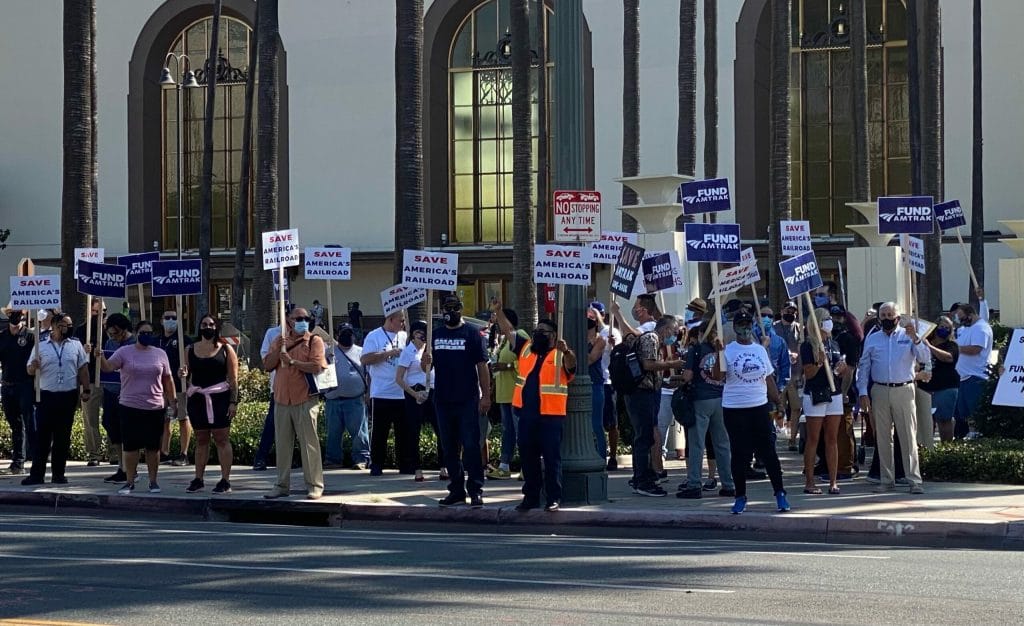 General Chairperson Anthony Simon (Long Island Railroad) and Scott Carey, legislative representative of Local 95 (Albany, N.Y.), took part in a rally with BLET and TCU members outside Penn Station, while California State Legislative Director Louis Costa led a morning demonstration in front of L.A.'s Union Station.  
Dearborn, Mich
.
In Dearborn, Hatton told the Arab American News, "This is a slap in the face to all the essential workers who have been serving the public throughout the pandemic — sacrificing their health and time with their families and loved ones. In 2019, we moved a total of 1,540,972 passengers on the Michigan Corridor. In Dearborn alone, we boarded and deboarded 73,589 passengers. When this pandemic first began, we were told not to wear masks or gloves as it would frighten passengers, while management was told to work
from home. As a union, in good faith, we decided to give up pay to help the company only now to be furloughed." 
SLD Donald Roach also pointed out to the news outlet that H.R. 2, the Moving Forward Act, which included funding for Amtrak, passed the House on July 1 and has stalled on U.S. Senate Majority Leader Mitch McConnell's desk. 
"This cut from Amtrak is not just employees being furloughed, it's reducing service from three trains a day in both directions, east and west, to one train a day to Chicago and the shutdown of the Grand Rapids–to–Chicago line," Roach said.  
Local 168 member Joel Myers was there rallying along with one of his two children. Myers stands to lose a lot if furloughed with one of his sons currently going through chemotherapy treatments. 
"If we are all furloughed, we will need to figure out how to keep food on the table for our families," Hatton told the Arab American News. "We will be losing a great public utility. This will greatly impact Dearborn and the Metro Detroit area as this is a mode of transportation that people rely on."  
Milwaukee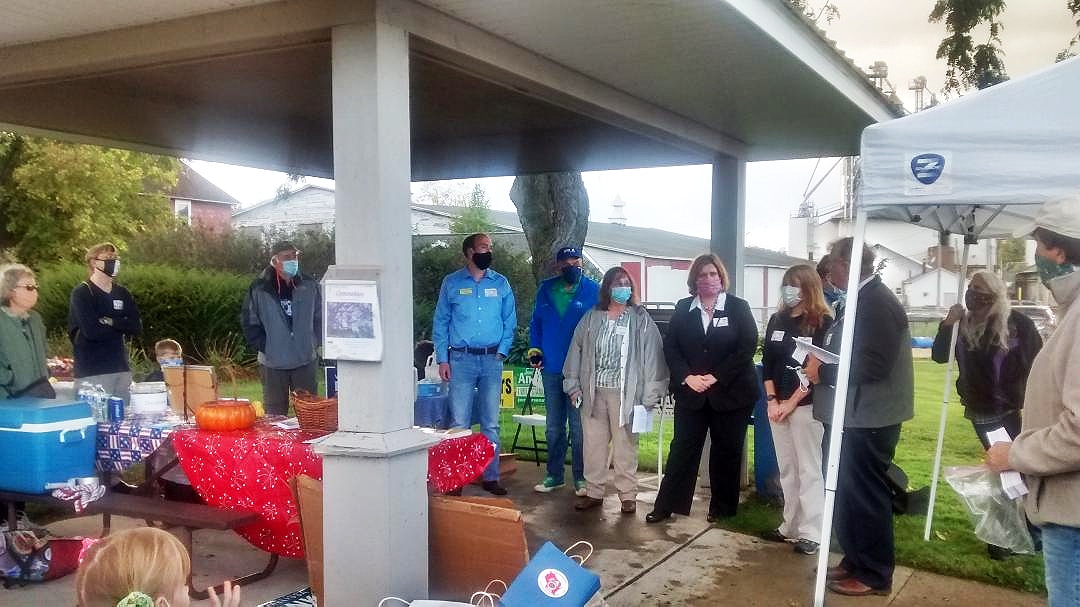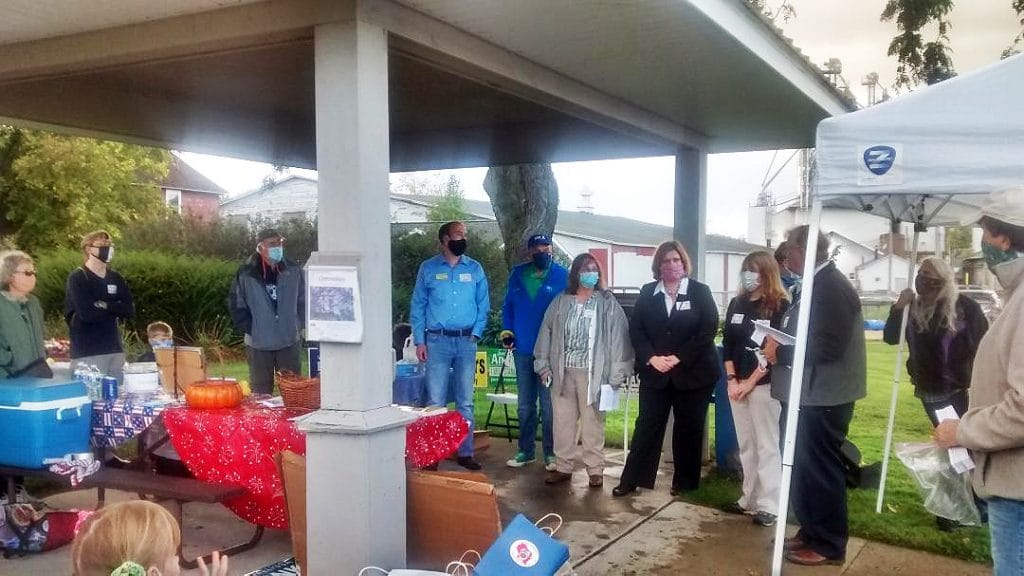 In Wisconsin, SMART members along with All Aboard Wisconsin boarded the Amtrak Empire Builder and rode to Wisconsin Dells, SLD Andy Hauck told SMART-TD. "We had press coverage at both locations and an event in Wisconsin Dells. The train crew was excellent. [The riders] included six legislators and prospective legislators that SMART-TD has supported."  
—
The rallies caught the notice of Democratic presidential candidate Joe Biden, who embarked on a whistle-stop tour aboard an Amtrak train that departed from Cleveland the day after the first presidential debate and later went into Pennsylvania.  
"It's safe to say I've gotten to know the hardworking men and women of @Amtrak over the years — I'm proud to stand with them as they face furloughs due to funding cuts. These essential workers have kept us moving during this pandemic –– now it's time we have their backs," Biden's tweet the evening of Sept. 30 read.  
SMART-TD is urging members to contact Congress about passing emergency funding for Amtrak. Not only are the livelihoods of SMART and other union members at stake, but Railroad Retirement will also take a huge hit to its funding if these layoffs stick.   
Click here to easily contact your representatives in Congress.