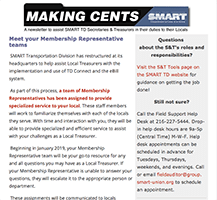 Meet your Membership Representative teams

SMART Transportation Division has restructured at its headquarters to help assist Local Treasurers with the implementation and use of TD Connect and the eBill system.
As part of this process, a team of Membership Representatives has been assigned to provide specialized service to your local. These staff members will work to familiarize themselves with each of the locals they serve. With time and interaction with you, they will be able to provide specialized and efficient service to assist with your challenges as a Local Treasurer.
Beginning in January 2019, your Membership Representative team will be your go-to resource for any and all questions you may have as a Local Treasurer. If your Membership Representative is unable to answer your questions, they will escalate it to the appropriate person or department.
These assignments will be communicated to locals through introductory letters sent out with the December mailings or you can see them on the SMART TD website. Your team members will be available to help with any questions and concerns as the transition to TD Connect and the new version of WinStabs progresses.
Team members are:
Team A: Amanda Casale and Paula Grant
Amanda: 216-227-5239
Paula: 216-227-5268
Team email: MRteamA@group.smart-union.org
Team B: Kim Dissell and Greg Hengesbaugh
Kim: 216-227-5295
Greg: 216-227-5203
Team email: MRteamB@group.smart-union.org
Team C: Mike Vega
Phone: 216-227-5266
Team email: MRteamC@group.smart-union.org
Your team members will be in the SMART TD office between the hours of 8:30 a.m. and 5 p.m. EST. While we encourage you to do your best to contact your Membership Representative during office hours, SMART TD also is offering limited after-hours support to treasurers from Jan. 14, 2019, through Feb. 28, 2019. The after-hours support hotline is 216-227-5280, and it will be operational 5:30 p.m. to 9:30 p.m. EST Monday through Thursday and noon to 4 p.m. EST on Saturdays.
Follow this link for the full list of assigned Membership Representatives.

Questions
about the S&T's roles and responsibilities?

Visit the S&T Tools page on the SMART TD website for guidance on getting the job done!

Still not sure?

Call the Field Support Help Desk at 216-227-5444. Drop-in help desk hours are 9a-5p (Central Time) M-W-F. Help desk appointments can be scheduled in advance for Tuesdays, Thursdays, weekends, and evenings. Call or email fieldauditor@group.
smart-union.org to schedule an appointment.

---

Important dates

• Jan. 2 — First credentials for TD Connect are released.

• Jan. 7 to 9 — TD Connect workshop in Kansas City, Mo.

• Jan. 14 — First eBill is released on new system.

• Jan. 18 — Hotel registration deadline for Salt Lake City TD Connect workshop.

• Jan. 21 — Registration deadline for TD Connect workshop in Minneapolis, Minn.

• By January 31 — Quarterly Form 940 (FUTA) taxes must be deposited (FICA only):

https://www.eftps.gov/eftps
For more info: SMART TD guide to paying and reporting Form 940 tax

• By Feb. 20 — Treasurer's annual report (TAR) for 2018 and Local President Financial Oversight forms are due to the TD office.
---
Two 2019 TD Connect workshops remain open!
The TD Connect workshops held over the autumn all filled to capacity and offered an overview to local S&Ts about the changes coming with the new eBill system. (Click on links to register):

January 7, 8 & 9, 2019 – Kansas City, Mo. at the Drury Inn and Suites, 7900 Northwest Tiffany Springs, Kansas City, MO 64153. WORKSHOP FILLED — waitlist available.
January 28, 29, & 30, 2019 – Minneapolis, Minn.at the Minneapolis United Labor Center, 312 Central Ave. S.E. Minneapolis, MN 55414. WORKSHOP FILLED — waitlist available.
February 11, 12 & 13, 2019 – Salt Lake City, Utah at the Double Tree by Hilton Salt Lake City Airport, 5151 Wiley Post Way, Salt Lake City, UT 84116. The workshop will be in the Bryce Room. Registration deadline is Feb. 4, 2019.
Workshop sessions will run from 9 a.m. – 5 p.m. on all three days. Click here for a flier with specific workshop details.
Space in these workshops is limited and you're encouraged to register well in advance to secure your spot.
For additional information about these workshops or to be placed on a waitlist, call Alyssa Patchin at 216-227-5281 or email apatchin@smart-union.org.
Rolling into TD Connect
Step 1: Remit your December 2018 paper bill to the TD office.
Step 2: The TD office will supply TD Connect credentials for all Local officers and Local chairpersons by email and mail within two business days of receiving your last paper bill, but no earlier than Jan. 2.
Step 3: Close out your 2018 books in WinStabs 5.09.
Monthly taxes for November must have been paid by Dec. 15. Also, it's recommended to pay December taxes by Dec. 28 to make closing out the year easier.
It's recommended that outstanding checks older than 90 days be brought back as a returned check in WinStabs along with notifying the payee and financial institution. Use caution on applying a stop payment as it may result in a bank charge. If you have any questions regarding this matter, please call the help desk at 216-227-5444.
Step 4: Upload your 2018 year-end data from WinStabs 5.09 into TD Connect.
Step 5: Work your January 2019 eBill in TD Connect.
Step 6: Download WinStabs NMR from your Local home page in TD Connect. (see the "Installation of WinStabs-NMR guide")
Step 7: Have member variances that you would like to request to be rolled over into eBill?
You have until March 30, 2019, to request a member variance rollover.
---
Websites hosted on utu.org domain are being retired
If your local is one of the 30 or so that have sites hosted on the utu.org web domain and the site has been updated in the last two years, you should have received an email from TD Senior Communications Coordinator Ben Nagy in late November notifying you of the impending retirement of these sites.


Effective Jan. 2, 2019, the utu.org-hosted sites will no longer be able to be updated and will be effectively frozen before being taken offline sometime in the near future. This is due to computer platform changes that have occurred in the years since those sites were introduced.
Locals who have one of these sites are encouraged to contact Nagy at 216-227-5283 or bnagy@smart-union.org to discuss Union Hall, a free web hosting tool and platform provided to SMART TD by the AFL-CIO.
If your local is interested in establishing its own website, the Union Hall platform could help get you and your local up and running at no charge. The AFL-CIO offers personalized training and the website setup takes less than a week. To get the process started, contact Nagy in the TD office at the phone number and email listed above.
---
Ask an Auditor
Q: I'm getting ready for the annual January audit of my local's books. What do I need to do to be prepared for this process?
The annual audit (also known as the Treasurer's Annual Report or TAR) is required by the SMART Constitution. Local trustees are to assemble in January and review the receipts and disbursements for the prior year before signing the report. The report is then presented at the local's next meeting and copies are filed and submitted to the SMART TD offices before the Feb. 20 deadline.
The key step to getting the TAR ready is to ensure that all finances are in balance, which include all your Local's checking, savings and investment accounts. All 12 bank statements for the entire fiscal year running January 1 to December 31 of the previous year need to be reconciled one at a time, and each must be in balance.
After balancing your accounts, use WinStabs to review any outstanding items that need to be resolved such as checks or disbursements that did not clear before Dec. 31. After these are balanced, WinStabs will notify you that the account is balanced and you are then ready to print out your report for the trustees to review and sign.
Local Trustees must understand and agree with what is in the report in order to sign it. After the three Trustees have signed, the report should be mailed to the SMART TD offices to the attention of the Field Audit and Support Department or scanned and emailed to Alyssa Patchin (apatchin@smart-union.org).
Additional details about filing the TAR are available on the SMART TD website in "SMART TD Guide: Preparing the TAR for Trustee Review."
To submit questions to Ask an Auditor, email fieldauditor@group.smart-union.org.