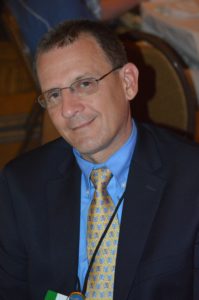 Robert J. Zanath, 50, died May 28 at University Hospitals of a brain aneurysm. He was surrounded by his family at the time of his passing.
Zanath was born Sept. 10, 1964. After graduating from Padua Franciscan High School in Parma, Ohio, he attended Kent State University and then graduated from Cleveland State University with a Bachelor's degree in communications.
Following college he worked at Ponderosa restaurant until he hired out with the United Transportation Union as the webpage designer October 8, 1990. Over the past couple of years Zanath took over as the head of the Public Relations Department of the SMART Transportation Division. Zanath was very dedicated to the union and its publications, often staying late to work on and finish projects. Zanath was a laid back, levelheaded supervisor with an unsurpassed knowledge of the inter-workings of the union. He will be missed by not only the PR department in which he worked, but by everyone who knew him.
Zanath was a devout Catholic, who tried to never miss church, even when out-of-town at regional meetings and conventions. He was a member of St. Columbkille Church of Parma, Ohio. He enjoyed the music of Van Halen and many other rock bands.  He loved the Cleveland Browns and was a huge Cleveland sports enthusiast. He enjoyed the TV show Star Trek: The Next Generation as well as anything pertaining to James Bond films. Although he was dedicated to his job, he was just as dedicated to leading a good moral life for himself, his entire family and to God. He was a devoted father and husband.
"He was thrilled when John (Zanath's son) came along," Retired Public Relations Assistant Eric Eakin said. "He loved his family, he loved his parents and talked to them all the time."
Surviving Zanath are his wife Lynn, their two children Holly and John, parents Jack and Carole, brother Tom and his wife Debbie, Goddaughter and Niece Erica, parents-in-law Anthony and Frances Grabowski.
Visitation is to be held Sunday, May 31 at Fortuna Funeral Home, 7076 Brecksville Rd., Independence, Ohio from 2:00 p.m. – 7:00 p.m. Prayers are to be held at the funeral home on Monday, June 1 at 9:00 a.m., followed by a Mass of Christian Burial at St. Columbkille Church at 10:00 a.m. Interment will follow at All Saints Cemetery.