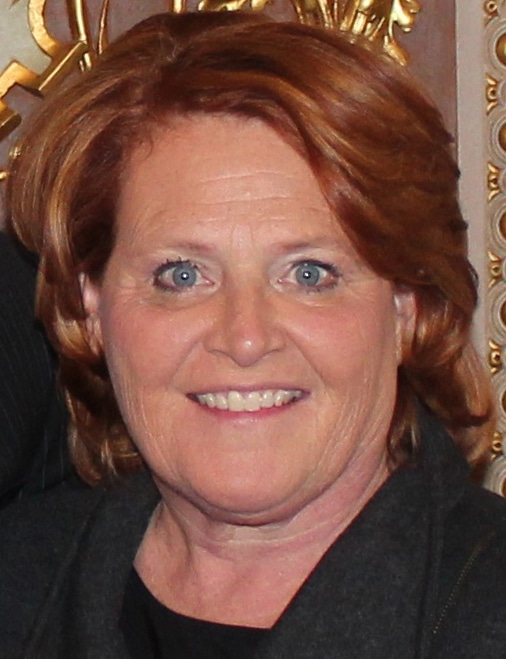 Washington, D.C. (January 31, 2018) – SMART Transportation Division announced today the introduction of the Safe Freight Act (S.2360) by U.S. Senator Heidi Heitkamp (D-North Dakota), which would require two crew members — one certified locomotive engineer and one certified conductor — on our nation's freight trains.
S.2360 is a companion bill to H.R. 233, introduced in the House of Representatives by Congressman Don Young (R-Alaska). As of its introduction, the Safe Freight Act has five cosponsors in the Senate. H.R. 233 has 74 bipartisan cosponsors in the House of Representatives.
For several years, SMART Transportation Division has asserted that a minimum two-person train crew is a vital component of rail safety and sound public policy. In 2013, Transport Canada established a government mandate requiring two-person crews in response to the Lac-Mégantic oil train disaster when a freight train carrying 72 tank cars of crude oil derailed and exploded, killing 47 people after its single crew member left the train unattended. The United States has yet to follow suit with a federally promulgated rule or law, and only five states have implemented a two-person train crew requirement.
"We are very pleased that Sen. Heitkamp has introduced this vital rail safety legislation, said John Previsich, President of the SMART Transportation Division. "For the same reasons that we have a pilot and copilot on commercial jetliners, two qualified crewmembers are essential to the safe operation of trains through our nation's communities. Bottom line economics should never be permitted to stand in the way of employee and public safety. The only safe way to operate a train is with two crewmembers on board the locomotive."
Heitkamp has long supported requiring two-person train crews and is a key advocate for rail safety. On July 15, 2016, Heitkamp testified in favor of the pending two-person crew federal rule before the Federal Railroad Administration. The derailment of a crude oil train near Casselton, N.D., had led Heitkamp to launch an initiative to address emerging challenges in the wake of the state's energy boom.
"When a disaster like the Casselton derailment sends shockwaves through our communities, we must do everything we can to prevent accidents and improve our ability to respond in the future," Heitkamp said. "After the Casselton derailment, it was clear that having two crewmembers on board the train made all the difference to prevent the fire from escalating and threatening those living nearby. My legislation is a commonsense way to make our communities strong and safe while supporting an industry that is vital to North Dakota jobs and prosperity."
S.2360 has been referred to the Senate Committee on Commerce, Science, and Transportation for further consideration.
Joining Heitkamp as cosponsors are U.S. Senators Tammy Baldwin (D-WI), Sherrod Brown (D-OH), Angus King (I-ME), Ed Markey (D-MA), and Elizabeth Warren (D-MA).
###
The SMART Transportation Division, formerly the United Transportation Union, is the largest rail union in the United States representing members in all operating crafts, including engineers, conductors, trainmen, switchmen and yardmasters.