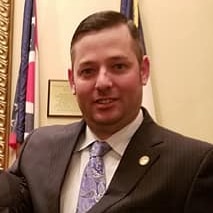 A member and leader at SMART Sheet Metal Workers' Local 33 has been tapped as president of the Toledo (OH) City Council.
Matt Cherry, who represents District 2, received 11 of 12 votes from his counterparts on the city council to become its new leader.
The president runs biweekly City Council meetings, sets the council agenda and appoints chairmen to its committees.  He also serves as first in line to become Major in case the current Major became incapacitated.
Cherry, who is 37 years of age, is a long time Business Representative and member of Local 33.