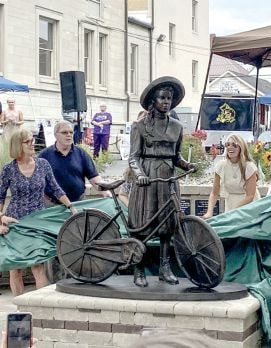 Two SMART members were present to pay tribute to a trailblazing Indiana woman honored for her role in fighting for women's right to vote in the early 20th century.
A statue honoring suffragist Mary Stuart Edwards was unveiled Aug. 26 in Peru, Ind., in a ceremony attended by Lt. Gov. Suzanne Crouch.
Edwards was a native of the city, located about 79 miles north of Indianapolis, whose organizing work and activism at the local, state and then later a national level from 1914 to 1926 helped to bring forth the national League of Women Voters.
TD Indiana State Legislative Director Kenny Edwards, no relation, and TD Local 206 (Peru, Ind.) Legislative Representative Pete Ulery were on hand for the event in a show of solidarity.
"Women's suffrage is a sibling to the labor movement. Many are unaware of the struggle and the women who fought to gain the right to vote," Edwards said. "These suffragists are no different than the proud men and women of SMART who fight for our rights and to advance and establish rights we don't have yet but deserve."
"Women's suffrage is a sibling to the labor movement. Many are unaware of the struggle and the women who fought to gain the right to vote."

– SMART TD Indiana State Legislative Director Kenny Edwards
Artist Cindy Billingsley sculpted the statue depicting Mary Stuart Edwards, who was born in 1880 and died in 1970, as a young girl with her bicycle. Edwards was said to be the first girl in her city to ride a bike and to go to college before embarking on her journey as a suffragist.
"What I hope women in particular will see when they visit this statue is what one woman can accomplish in her hometown, her state and her country," Billingsley said. "We women must remember other countries are inspired by us, and young girls should be inspired to make a difference. That's what this statue of a 12-yearold girl with a bicycle represents — hope — if Marie accomplished this, what can we accomplish next?"
Edwards said the event was a worthwhile and memorable one.
"It was a great day and SMART was a part of it!!"