SMART MAP
CLICK HERE FOR A LISTING OF 2020 SMART MAP TRAININGS
Our Vision – is to develop and foster a culture of well-being throughout our union by providing our members and their families compassion and support when confronted with mental health challenges.
Our Mission – is to build awareness around the national health epidemic of substance use disorder and other mental health problems including thoughts of suicide and to construct a network of support by compassionate union members and mental health experts for our members and their families who are facing these life challenging difficulties.
SMART MAP Program Overview – SMART MAP is a program focusing on three essential areas around the mental health of our members and their families; Awareness, Solutions and Support.   Through our national and localized trainings an Awareness around the problems associated with mental health disorders, with a primarily focus on substance use disorder and suicide prevention are highlighted. These trainings focus the social, financial and quality of life impact for those members and their families who are affected and the options that are available to them.  Once our local unions are aware of the scope of the problem we turn the discussion to a Solutions based approach where interventions and treatment options are explored and local union insurance avenues are emphasized.  Once our members enter a treatment path our SMART MAP volunteers Support those members throughout the process and assist in most important part of this program, working towards long tern recovery.
Our SMART MAP Volunteers are union members with high credibility within the local with strong interpersonal and attentive listening skills and who also have time and a natural desire to help others. These Volunteers will can support our members when returning to work and assist with coordinating the member's continuing care plan to sustain a successful continuation of their recovery from the problem.  Once our members complete their initial treatment, their re-integration back into their home and work life can offer some steep obstacles.  The therapeutic value of one union member understanding and helping another union member is without parallel.  This important support is often the difference in relapsing and/or returning to an unsuccessful and unhappy lifestyle.
Our SMART MAP Volunteers direct our members to additional resources and provide them with the positive support and reinforcement every member needs in the early stages of ongoing recovery such as 12 Step Programs such as Alcoholics Anonymous (AA) & Narcotics Anonymous (NA) for those with substance abuse and Al-Anon & Nar-Anon for friends and family members of those who are affected by someone else's addiction.
Five Behavioral Stages of the Addiction Process
Experimental Use – First or second use, use of gateway drugs, and/or peer pressure and group use.
Regular Use – 90% of users – a general lack of negative consequences.
Transition – Problems, isolation and tolerance develop
Early Dependence – Consequences grow, increasing awareness of the addiction to friends and family.
Full Dependence – Addict is now aware of the addiction and has feelings of hopelessness, coupled with significant consequences (i.e., jail, hospital, death).
Warning Signs of Drug Dependency
Increase in tolerance, amount and frequency
Changes in personality
Mood swings
Defensiveness
Avoiding friends and family
Excuses, lying, denying, blaming
Changes in lifestyle
Trouble at home and work
Withdrawal from friends, family and activities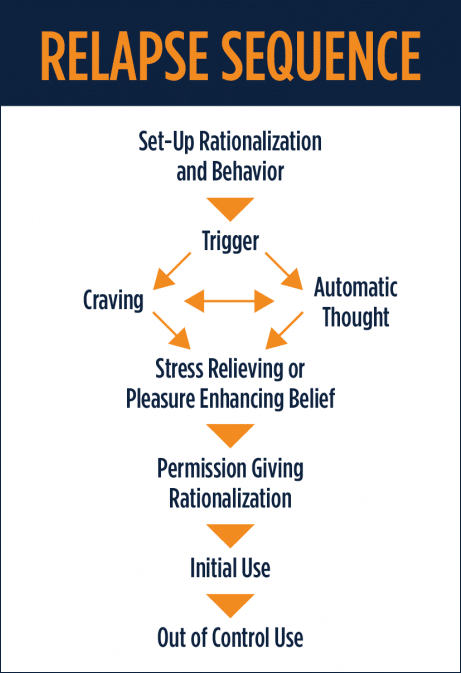 ---
This web site provides links to other sites, not owned or controlled by SMART, that we think might be useful or of interest to you. SMART, however, does not endorse or guarantee references or sites listed, and no unfavorable influence should be drawn from failure of any resource to be listed here. Additionally, we cannot be responsible for the content or privacy practices used by other site owners.