Day three of the SMART Leadership Conference focused on developing community solidarity and legislative power. From local efforts to engage members across sheet metal and transportation, to the International's relationship-building with allies in federal and state governments, SMART sheet metal and transportation leaders performed the important work of creating Growth Through Unity via government and community action.
After General President Sellers called the third day of the conference to order, United States Speaker of the House Nancy Pelosi joined the conference by video. Recalling the support SMART provided when she first ran for Congress, Pelosi recognized SMART locals as "stalwart defenders of members' jobs, benefits and security." She outlined recent legislative accomplishments of House Democrats and the Biden Administration, including the CHIPS and Science Act – complete with significant labor protections – before ending her address with a promise: "We will not relent until the Richard Trumka PRO Act is signed into law."
Following Pelosi's speech, SMART Director of Government Affairs Steve Dodd and National Legislative Director Greg Hynes provided an update on SMART's political advocacy. After noting the SMART industry-specific victories in legislation like the Bipartisan Infrastructure Law – which calls for investments in HVAC work, indoor air quality, transportation and more – Dodd and Hynes explained that such achievements are largely due to the new level of access SMART has with the president, Congress and federal officials. As an example of the unprecedented emphasis on labor in U.S. policymaking, Dodd pointed to the pension relief included in the American Rescue Plan, which (among other unions) provided millions of pension dollars to SM Local 33 in Ohio.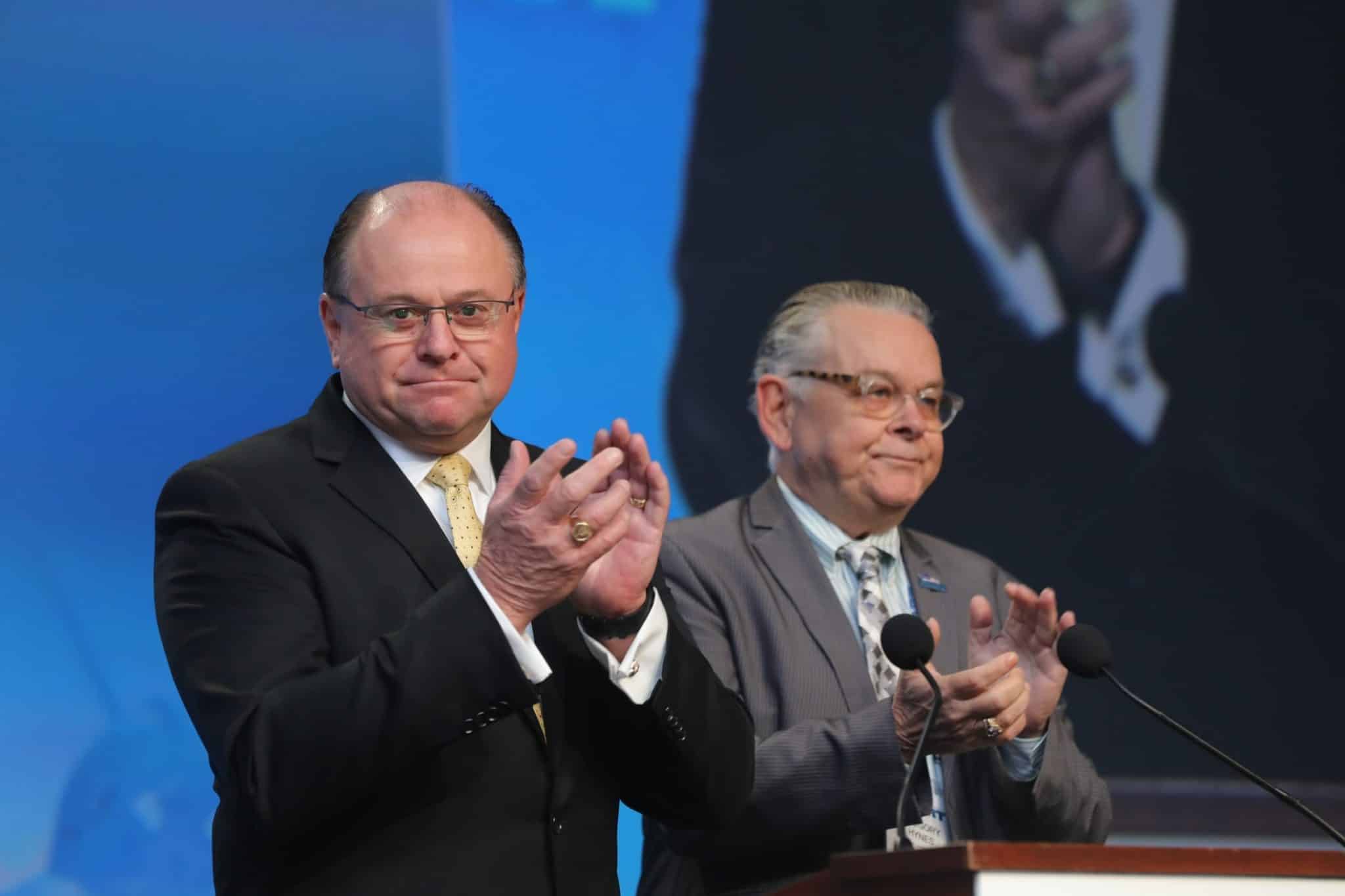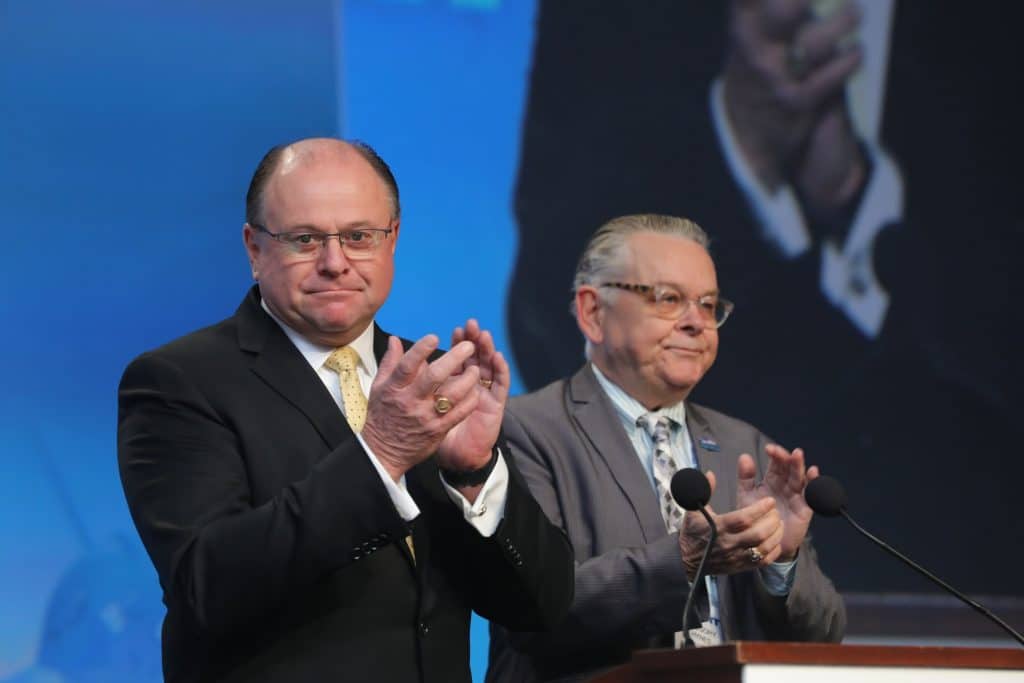 Hynes, meanwhile, focused on the difference the new president, Congress and federal appointees have made for SMART TD members – and described how the Transportation Division has consequently elevated its efforts to provide greater communication to members. Noting that favorability of SMART and TD locals has risen among members, Hynes listed some of the accomplishments won for transportation workers, including proposed legislation like the PUMP Act and the notice of proposed rulemaking requiring two-person train crews.
"We're going for the [two-person crew] regulation and we're going for the law, and we're not backing down," Hynes said to thunderous applause. "It's important that everybody provides comments [for two-person crew rulemaking] – I'm talking about sheet metal and transportation."
Submit your comment in support of two-person crew regulations here.
Finally, Dodd and Hynes ended their joint speech with a call to action: The access that SMART has right now can be taken away as quickly as it appeared. Locals across the country, across industry and across craft need to come together and elect more pro-worker candidates to secure our union's future.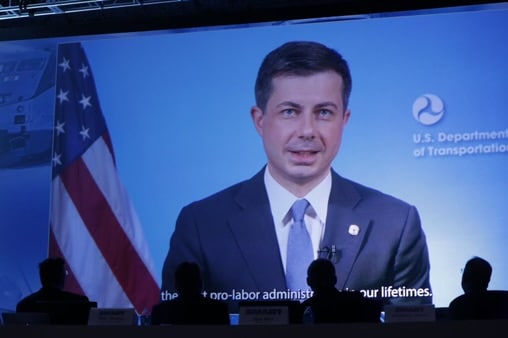 United States Secretary of Transportation Pete Buttigieg also delivered remarks by video, demonstrating the exceptional status of the Transportation Division's current relationship with federal officials. After summarizing the ways in which legislation like the American Rescue Plan and the Bipartisan Infrastructure Law are being used to improve and modernize the United States' transportation systems – as well as programs like PROTECT, which is making American roads, bridges and rails more weather-resilient – Buttigieg acknowledged that "the most important part of our transportation systems isn't the physical infrastructure, it's the people operating it every day." He ended his speech by dedicating his work to SMART members: "We really are living through a new dawn in American transportation, and you all are at the center of it."
After Buttigieg's video, California Building and Construction Trades Council President Andrew Meredith delivered in-person remarks on the continued work of the building trades and SMART to organize, secure more work and continue to build labor's ability to pull workers into the middle class. In particular, Meredith emphasized how focusing on diversity and inclusion in organizing can help unions like SMART grow their numbers and break into relatively unorganized sectors, like residential construction.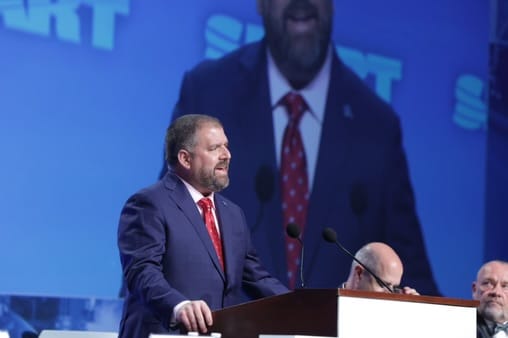 "As we're addressing the housing crisis, we're holding a firm line for diversity and inclusion language to be included in contracts," he said. "We create pathways for everybody."
Meredith acknowledged that the unionized building trades have not always been open to all workers, pointing specifically to past practices that excluded women, people of color and those who speak English as a second language. Now, he said, the building trades in California are working to include contract provisions like childcare and educational opportunities, offering more opportunity to workers from every background – in addition to the wages, benefits and workplace dignity that unions stake their reputations on.
"I'm proud that your organization has a tremendous history of inclusiveness and diversity," noted Meredith. "Make your programs the model for other organizations to follow."
He concluded by echoing the call many others have made throughout the leadership conference, from General President Sellers to AFL-CIO President Shuler: It's time to organize.
"It's an unprecedented time for labor in this country," Meredith declared. "Workers are clamoring to be organized."
United States Labor Secretary Marty Walsh re-emphasized many of the points made by Meredith in a video address. Like others, he noted the extraordinary pro-worker achievements of the last two years, with specific Department of Labor initiatives like strengthening Davis-Bacon protections and fighting against worker misclassification. He also observed that while three quarters of young workers are interested in forming a union, only 10% know how – a gap that can and must be closed for the betterment of working people across our country.
"We need strong, diverse unions now more than ever," Walsh concluded. "I know SMART is devoted to that."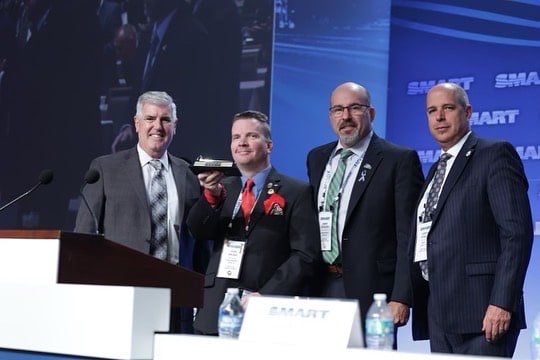 The joint session culminated with a focus on the SMART Army: our union's cross-industry, every-member effort to make sure people across North America know SMART workers are the fabric of our communities. First, General President Sellers presented the 2022 Joseph J. Nigro SMART Army Service Award to two union members who have selflessly devoted themselves to both their union and their communities: Local 18 (Wisconsin) Retiree Kevin Turner and TD Local 610 (Baltimore) and SM Local 100 (Washington, DC-area) member Johnny Walker.
"The SMART Army brings us together in the community, it makes us apart of the community," Turner said.
"The community knows who we are. We're there," Walker added. "The important thing about the SMART Army is you're a part of something that's a lot bigger than you."
Paul Pimentel of SMART Communications followed the awards presentation with an overview of the SMART Army and its efforts in the recent past and looking towards the future, particularly with so much on the line in the 2022 elections. Describing the ways in which SMART has dedicated resources to member communications –surveys, focus groups and more – Pimentel listed methods that locals can use to let members know which politicians are walking the walk for labor: unified messaging, face-to-face conversation, social media content that speaks to members and more. All of that is crucial, he said, as SMART seeks to recruit, retain and organize its way to greater strength for all members.
"We are not on the defensive anymore, we are on the offense, and that's something we need," Pimentel announced.
And finally, Transportation Division President Jeremy Ferguson wrapped up the general session by reiterating the importance of two-person crews on trains, calling for members across our union to submit comments to the FRA.
"Because of greed on wall street, the railroads want to remove the conductor off the freight trains," he said. "[But] it is important that have conductors on those trains to keep trains safe, engineers safe, America safe, and keep trains moving on time."
Submit your comment in support of two-person crew regulations here.