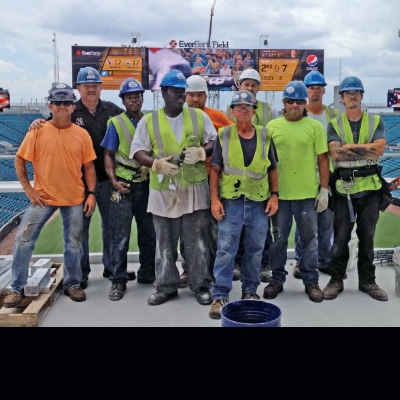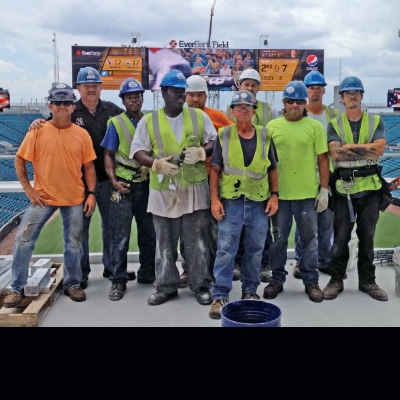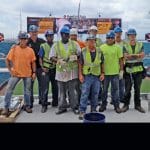 Sheet Metal Local 435 members, along with national siding SMACNA contractor Crown Corr, Inc, completed work in August on the world's largest video/scoreboards. Working in a very compressed 90-day schedule, all the metal siding, standing seam metal roof, associated flashing, coping, sub-structure, and associated side wall louvers were finished "on time and under budget," reported Jacksonville Jaguars President, Mark Lamping.

Jacksonville, FL, city officials and the NFL team owner combined resources to give the publicly owned stadium major renovations, including the massive jumbotrons. The video boards measure 60 feet high by 362 feet wide and are in both end zones. They far exceed all other stadium jumbotron screens in size. The huge video boards are capable of showing any combination of live action, instant replays, vivid graphics, colorful animations, up-to-the-minute statistics, scoring information, and sponsor advertisements.

Approximately twenty Local 435 members and six of Crown Corr's traveling SMART members completed the job in extremely taxing conditions over the summer. Business Manager John Parker reported that 29 days of the work schedule were in temperatures of 95 degrees or higher. SMART's members worked seven days per week and showed why paying for the best was worth it. One of the local SMACNA signatories also benefited from design/build practices by fabricating reinforcement steel for Crown Corr.

"The job is a showcase of SMART diversity and union capability when time and performance are on the line. We will point to this job for years to come and be proud every time we enter or drive by the stadium. It is a real trophy for the members of Local 435. You really have to see the screens in person to appreciate the size and clarity," said Parker.