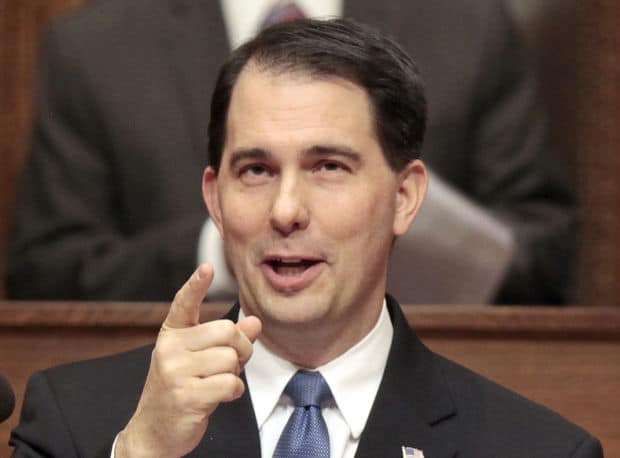 A Wisconsin State Representative has announced that he will introduce a Right-to-Work for less bill in the upcoming legislative session.  The move comes just days after a former Americans for Prosperity associate, Lorri Pickens, announced a new tea party group called "Wisconsin Right to Work.".
Wisconsin House Speaker Robin Vos has suggested in the past that "Right-to-Work" would not be on the party's agenda during the two-year legislative session beginning in January.  However, following the announcement of the tea party backed "Wisconsin Right to Work" group, he changed his tune.  Vos now says that "he looks forward to discussing the benefits of becoming a right-to-work state."
Senate Majority Leader Scott Fitzgerald has said "he was open to the idea."
Gov. Scott Walker is sticking to his talking point on the matter, saying "Right-to-Work isn't a priority."  His spokeswoman, Laurel Patrick, added that, "Walker is focused on creating jobs and anything that distracts from that goal isn't a priority."   It should be noted that this was wxactly what was said by Michigan Governor Rick Snyder in the weeks leading up to when Right-to-Work for less legislation was snuck through in Michigan.
One impediment to passing such legislation has been the support Walker has received from the leadership of Operating Engineers Local 139.
Scott Fitzgerald said Republicans could exempt the operating engineers from the bill as a reward for their support.  He also admitted that exempting them from the Right to Work for less bill could make the law more likely to be shot down in a court of law, which would make the GOP less likely to carve out the operating engineers.  In an interview with the Milwaukee Journal Sentinel, Local 139's Business Manager noted he was not made aware of the GOP attempt to push through Right to Work for less.
In 1993, as a freshmen legislator, Walker co-sponsored Right to Work for less legislation.